August 8, 2019
10 Interesting Facts about Military Families That You Need to Know
Those who enlisted in the military aren't the only ones greatly affected by their decision; it also affects the families they leave behind once they're deployed abroad.
While it's true that being a part of a military family can have its own share of perks including the opportunity to travel, there's also a downside to it—being constantly uprooted from the community that they've grown to love.
Military Family Facts
You may be surprised to find out that there are many things that you don't know about the challenges that military families face on a regular basis. Veteran Car Donations gives you a glimpse of what it's like to be in their shoes.
On average, military families relocate once every two to three years. Statistics show that military families move three times more than normal civilian families.
Compared to civilians, service members are more likely to get married and have children at a younger age.
More than 2 million children have parents that have been deployed abroad at least once.
There are approximately 84,000 couples who are both military personnel. Most of the time, they get deployed at the same time, leaving their young children in the care of their loved ones.
Kids with military parents change schools at least six to nine times and can have difficulty maintaining high marks due to the different demands of the school they transfer in.
Service member deployments usually last as long as one year.
Most military families are usually required to leave their pets behind when they move, especially when they get relocated overseas. However, there are organizations that can help look for foster families who can take care of their pets temporarily.
At least 52,000 service members have been injured since 9-11.
Statistics show that service members and their spouses have lesser divorce rates compared to civilians. In 2011, the divorce rate for service members was at 3.7 percent and in 2014, it went down to 3.1 percent.
Most service members suffer from other health issues aside from physical injuries. Mental health issues such as depression and PTSD are common among active duty members and veterans who have served during conflict. This could affect their relationships with their families as well as impair their ability to function on a daily basis.
Do You Want to Get Rid of an Old Clunker?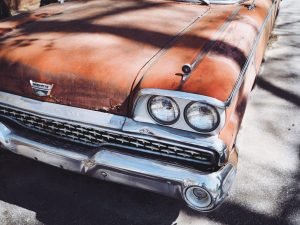 Perhaps you have an old rusty car that's just taking up space in your backyard and you're itching to get rid of it. Why not just donate it to Veteran Car Donations? Such donation will help our charity partners provide life-changing programs and services to the struggling veterans in your community. These IRS-certified 501(c)3 nonprofits provide their beneficiaries with mortgage-free and specially adapted homes, free mental healthcare, employment opportunities, job training, transitioning assistance, tutoring support and education scholarships, financial assistance, life skills training, counseling, and many other benefits.
You will also benefit from your charitable contribution since this will entitle you to claim a top tax deduction in the next tax season. Moreover, you'll also get to enjoy our quick and convenient donation process and our free pickup and towing services.
For more information on our car donation program, check out our FAQs page. For inquiries, you can call us at 877-594-5822 or send us a message online.
You can donate to Veteran Car Donations by either calling us or filling out our secure online donation form. We accept donations of nearly all types of vehicles regardless of age and condition, which means you can hand over even vehicles that are no longer in good running condition. You can also make your donation wherever you are in the United States since we have vehicle donation programs in all 50 states.
Turn Your Old Car into a Life-Changer
You can easily impact the lives of our veterans, our nation's heroes who fought for us to defend our freedoms and protect our nation's security. Call us at 877-594-5822 and let us turn your clunker into a life-transforming instrument.