November 10, 2019
4 Facts About the Marine Corps You May Not Know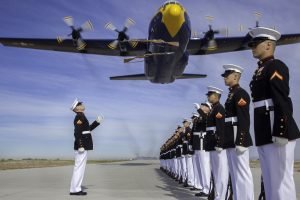 Since the Marine Corps 244th birthday on November 10 is just around the corner, Veteran Car Donations puts the spotlight on our brave Marines who are responsible for conducting U.S. expeditionary and amphibious operations overseas to protect and defend our nation's interests. Did you know that as of the latest estimates, the Marine Corps has over 186,000 members and 38,500 reserves?
The Beginning of the Marine Corps
The Marine Corps started as a small group of freedom fighters during the American Revolution. Nevertheless, the efforts of Major Samuel Nicholas and his recruits in 1775 turned it into one of the most powerful forces of the United States military.
Nicholas' battalion of Continental Marines was formed in Philadelphia following the approval of a resolution by the Continental Congress on November 10, 1775, calling for the formation of two battalions of Marines to fight for independence at sea and onshore. The members of the Continental Congress drafted the resolution at Tun Tavern, a local pub owned by Robert Mullan, who was one of Nicholas' first recruits and who eventually became his chief recruiter. Nicholas established his recruitment agency at Mullan's establishment.
With the aid of cold glasses of beer, potential candidates for the new force came swarming in. As Nicholas outlined his vision for the Continental Marines and called for volunteers, people saw it as their opportunity to serve their country.
Since then, the Marine Corps has grown bigger and bigger and its duties and scope of operations have expanded. As of February 2018, approximately 35,200 Marines had been deployed overseas to protect our country's allies and to ensure that their interests are not jeopardized.
What Are the 4 Facts About the Marine Corps that You May Not Know?
In celebration of the Marine Corps 244th birthday on November 10, here are some interesting facts that you can share with your friends or co-workers on this day:
S. Marines are also called Jarheads, Leathernecks, and Devil Dogs.
The Marines got the nickname "Jarheads" from sailors who implied that the stiff necks of the Marines made their heads look like they were sticking out of jars.
The "Leatherneck" nickname was coined because of the stiff collar in the Marines' uniform that was apparently made to protect their necks from getting stabbed.
Lastly, they got the nickname "Devil Dogs" from German enemy soldiers during World War I. The Germans described them as "teufelshunde" or devil dogs after they were stunned by the U.S. Marines' endurance and ferocity on the battlefield.
Their official motto is 'Semper Fidelis' or "Semper Fi' for short.
Perhaps you've seen a movie where a Marine uttered the words "Semper Fi." This is actually their motto, and it means "always faithful" or "always loyal." This means that a Marine always sticks to the values and ethics established by the Corps.
The Marine Corps is the smallest branch of the U.S. military.
With only 186,000 active members as of 2017, the Marine Corps is the smallest branch of the U.S. military. Other military branches are much bigger. The United States Army has approximately 541,000 members; the Navy has around 317,000 members, while the Air Force has about 333,000 personnel.
The Marines' emblem features images of an eagle, globe, and anchor.
When you look at the U.S. Marine Corps' emblem, you'll see three images – an eagle, a globe, and an anchor. The eagle is America's national bird and represents the Marines' pledge to protect their nation at all cost. The globe symbolizes the presence of the U.S. Marines in every part of the world. The anchor embodies their naval heritage and their ability to reach every shore in the world.
Our Veterans Deserve All the Help They Can Get
Our former servicemen and servicewomen go through the highly challenging process of reintegrating themselves into society after they get separated from the service. Many of them find it extremely difficult to transition to civilian life because of their service-connected disabilities, unresolved mental health issues, inability to find decent jobs, lack of support, and homelessness.
You can help ease their woes and provide them a better future by donating to Veteran Car Donations any vehicle you no longer need or use. We'll auction off your donated vehicle and use the generated funds to support the programs of our charity partners. These IRS-certified 501(c)3 nonprofit organizations provide needy and deserving veterans with essential medical care, mortgage-free and specially adapted housing, mental health services, employment opportunities, job training, education scholarships, and many other benefits.
To thank you for your gift, we'll give you a set of rewards, including a 100% tax-deductible receipt that will enable you to claim the maximum tax deduction in the next tax season. Moreover, you'll also get to enjoy our free pickup and towing services and our quick, convenient, and no-paperwork donation process.
It wouldn't matter to us if you're donating a vehicle that's no longer in tiptop shape because we accept nearly all kinds and types of vehicles regardless of their age and condition. You can also make your donation wherever you are in the United States since we have vehicle donation programs in all 50 states.
To get started, you only need to fill out our online donation form or call us at 877-594-5822, and we'll handle everything else for you. If you have questions about anything in our vehicle donation program, feel free to send us a message online or call us at our toll-free hotline any time. For more information, visit our FAQs page.
It's Time to Show Your Gratitude to Our Heroes
As we celebrate the U.S. Marine Corps 244th birthday on November 10, think of the gallantry of our former troops who fought for us, endured enormous sacrifices, and risked their lives to defend our freedoms and protect our security. They certainly deserved all the benefits that their grateful fellow Americans can give them. Call us at 877-594-5822 and show them your gratitude with your car donation!