June 21, 2020
Learn More about This Ancient Practice with Many Known Health Benefits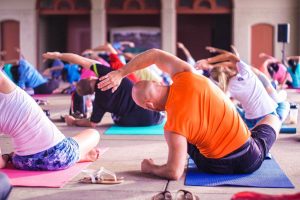 In 2014, the United Nations proclaimed June 21st of every year as the International Day of Yoga to encourage people worldwide to try the ancient physical, mental, and spiritual practice that has many known health benefits.
The word "yoga" is derived from Sanskrit, which means to join or to unite. The concept symbolizes the joining of the body and consciousness. It is said to give calmness, peace, confidence, and courage to those who practice it.
Fun Facts about Yoga
Yoga originated from India. People have been practicing it for more than 5,000 years.
Over the last four years, the number of Americans who practice yoga has grown by around 50 percent. As of 2019, there were 36 million Americans practicing yoga.
Male yoga practitioners are known as "yogis" while female practitioners are known as "yoginis."
Yoga is the top complementary health approach in the U.S. followed by meditation.
There are over 100 styles of yoga.
Some 18,000 yoga schools are operating in the U.S. while 52,000 have been registered as yoga instructors.
Research has proven that yoga delays aging.
How to Celebrate International Day of Yoga
You can celebrate the International Day of Yoga on June 21st in several simple ways. Here are some of them:
Take a yoga break.
You can do several yoga poses at the office to loosen up your muscles. The modified downward dog shoulder stretch and the seated twist are popular choices among office workers who spend their day in front of a desk. Don't worry, the poses are not extreme enough to make your officemates think you're crazy.
Try new yoga poses.
Be adventurous and try yoga poses that are different from the norm. If you're feeling even more excited, you can make your own style. 
Wear your love for yoga.
Pick a cool shirt with a slogan that shows your love for yoga. Wear it proudly. It is a simple and fun way to celebrate the International Day of Yoga. 
Treat yourself to new yoga gear.
Whether it's a new yoga mat or workout outfit, you can splurge on something that will help you enjoy practicing yoga even more. You deserve it. 
Provide Our Heroes with a Lasting and Meaningful Aid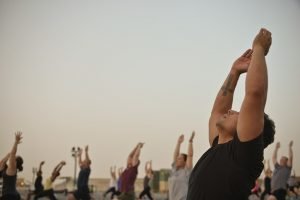 Over the years, yoga has been recognized as an effective tool for veterans who are experiencing post-traumatic stress disorder (PTSD). It is being used to minimize PTSD triggers among patients. It is known to help veterans deal with negative feelings and keep themselves calm.
PTSD is one of the mental health challenges faced by many of our veterans. Others are grappling with service-related disabilities, other illnesses, inability to find jobs, and homelessness.
You can easily provide them with your lasting and meaningful support, which they surely deserve for their invaluable service to our nation. All you have to do is to donate to us at Veteran Car Donations any car, RV, boat, or whatever type of vehicle that you no longer need or use, regardless of its condition.
We'll sell your donation through auction and use the proceeds to support the programs and services of our charity partners. These IRS-certified 501(c)3 nonprofits are dedicated to providing their veteran beneficiaries with financial assistance, free medical treatment, employment opportunities, family support, and other essential services.
You also stand to benefit from your donation. We'll provide you with our free pick-up and towing service wherever your vehicle is located in the country. Your gift will also qualify you for a top tax deduction in the next tax season.
Visit our FAQs page to learn more about our program, particularly our quick and hassle-free donation process. You can also call us at 877-594-5822 or leave us a message here if you have questions or concerns.
Give Our Hurting Vets a Break!
Our veterans deserve to have a break from the woes they're facing. Give them that break by taking part in our vehicle donation program. Call us at 877-594-5822 or fill out our online donation form now!