September 3, 2019
5 Deductions that Were Changed or Eliminated in 2018 That Could Affect You
If you're one of the many people who have been following the updates on the latest tax reform law, then you may have an idea of the changes that were made, including the five deductions that were changed or eliminated in 2018. Implemented in 2017, the Tax Cuts and Job Act (TCJA) first impacted the American taxpayers in the 2018 tax season. While the new tax rules may be advantageous for some people, others are not as fortunate.
The TCJA is considered as the largest tax overhaul in America in the last 30 years. It's extremely important for us to understand how the changes work so that we can make the necessary adjustments in our income taxes for our own benefit. Gaining better knowledge of the new tax rules can help us think of the possible ways where we can use those rules to our advantage.
What Deductions Were Changed or Eliminated in 2018?
To help you understand the changes that the IRS made, Veteran Car Donations shares the five deductions that were changed or eliminated in 2018:
Commuter Tax Benefits
In the previous tax law, employees could receive reimbursements for their commuting expenses tax-free, and the employers could receive a tax deduction for that. However, that advantage was eliminated when the new tax code was implemented. Employer deductions for carpooling, transit, and parking fees were also removed in the new tax code.
Moving Expenses
Moving expenses as a result of relocating for a new job used to be tax-deductible. However, since the TCJA was implemented, you can kiss that deduction goodbye. There is, however, one exception to this: If you're on active military duty and you're tasked to relocate for service, then this deduction is still applicable to you.
Standard Deductions
The standard deduction in the previous tax law was $13,000 for joint filing. The new law increased the deduction to $24,000. Taxpayers who are single can also experience a higher tax standard deduction from $6,500 to $12,000. Moreover, the head of the household also gets to experience a standard deduction increase from $9,550 to $18,000.
Local and State Taxes
You might have enjoyed the benefits of your local and state taxes in the previous tax law if you itemized your deductions. However, the new TCJA imposes a new code that caps off the deductions to $10,000. This could have an adverse effect on taxpayers who live in areas with high tax rates.
Mortgage Interest Deduction
The mortgage interest deduction used to go up to $1,000,000 in 2017. However, with the new tax law, the mortgage interest deduction was reduced and limited to only $750,000 for joint filing and $375,000 if filing separately.
Depending on your financial situation, the tax reform law may either have a negative or positive effect on you. These changes are bound to last until December 31, 2025, so it's better to run the numbers as early as now and to take time to understand the concept of the new tax law.
Tax Deductions from Charitable Contributions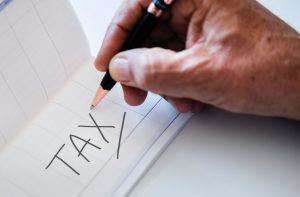 Despite the changes we've mentioned, the new tax reform law still recognizes the generous deeds done by people who engage in philanthropic activities. Single tax filers can claim up to $12,000 tax deductions from their charitable donations while married couples who file their taxes jointly can claim up to $24,000. Although this is a bit lower compared to the standard deduction, you can still find a good reason to keep donating to charities.
One such good reason is the fact that your donation can significantly impact the lives of those who need your contribution the most. If you are donating your vehicle to us at Veteran Car Donations, we'll be using it to transform the lives of the needy veterans in your area. We'll auction off your vehicle and use the proceeds to support the programs of our charity partners. These IRS-certified 501(c)(3) nonprofits cater to veterans who are suffering from service-connected disabilities, physical and mental health issues, lack of jobs, and homelessness due to poverty.
Thanks to your donation, these veterans will have the opportunity to receive mortgage-free and specially adapted homes, free mental health care, employment opportunities, job training, transitioning assistance, tutoring support and education scholarships, financial assistance, life skills training, counseling, and many other benefits.
You will also benefit from your charitable contribution since this will entitle you to claim a top tax deduction in the next tax season. Moreover, you'll also get to enjoy free pickup and towing services from us.
For more information on our car donation program, feel free to visit our FAQs page. For inquiries, you can call us at 877-594-5822 or send us a message online.
You can donate to Veteran Car Donations by filling out our secure online donation form or calling us directly. We accept donations of nearly all types of vehicles wherever you are in the United States since we have car donation programs in all 50 states.
Help Our Veterans Get Back on Their Feet
Our veterans, along with our active-duty military personnel, are the reasons why we can sleep soundly at night. Those who are going through hard times need your help now more than ever. If you're interested in making a donation, let us know. Call us at 877-594-5822 and get started with your car donation!