May 1, 2019
The Top 5 Delicious Barbecue Options You'll Want to Try
Did you know that the reason why Americans love eating outdoors is that they get to have a chance to spend time with their family and friends while they eat and have fun? Studies show that about 64% of the adult population in the U.S. agrees that one of the best ways to bring families and friends together is through a barbecue party. Most folks prefer cooking outdoors than indoors or even dining at a restaurant because according to them, grilling food outdoors is much easier and cheaper, too.
Since May is National Barbecue Month, all of us will soon get to have a good excuse to drag out our grills, clean out our barbecue pits, grab some charcoal, and celebrate barbecue with our loved ones.
The History of Barbecue
Did you know that the idea of having a barbecue meant cooking pork over an open fire? Thanks to the Aborigines in Florida and the Caribbean who introduced the idea, the term "barbecue" became a part of our culture. It was first recognized in the English language as "barbacoa," which is roughly translated as "sacred fire pit."
Over time, the term eventually evolved into a cooking method rather than a particular dish. It also came to include other types of meat and food when people discovered that fish, chicken, beef, and vegetables can also be cooked in a delicious mouthwatering way through barbecue.
What Are the Top 5 Delicious Barbecue Options You'll Want to Try?
If you're planning to host a barbecue party, you can use the occasion to expand your barbecue skills and recipes. Instead of sticking to the traditional way of cooking barbecue, try something you have never done before.
Before you start heating up the grill, Veteran Car Donations shares these top 5 delicious barbecue options you'll want to try.
Sweet Cola Ribs
Imagine sinking your teeth into deliciously tender ribs that offer a punch of unexpected sweetness in every bite. Even before your guests try it, we guarantee that the smell of smoke that's wafting from your barbecue grill will already blow them away.
Mexican Corn
Mexican grilled corn is one of the most popular grilled foods sold in many county fairs as well as food trucks. With a bit of chili powder, lime, and lots of cheese melting and seething in between the kernels, your corn cob will taste nothing short of heavenly.
Mixed Veggies
Who said you can't make a vegetable barbecue? Meat isn't the only thing you can put on top of a grill. A mix of various vegetables can also be great for your side dish! When you grill your peppers, you get a different kind of pleasant aroma that will definitely make you want to eat your veggies as soon as possible.
Kebab
The brown colored, roasted, thinly sliced meat has won the hearts of many because of the richness of its flavor. If you don't eat pork, then this is definitely the best choice for you. Kebab originated in Turkey and it's made up of lamb, chicken, beef, or veal—definitely not pork.
Smashed Potatoes
If you're looking for the best side dish, you can't go wrong with smashed potatoes. There's nothing better than eating potatoes that are soft and creamy on the inside but crispy on the outside.
Now that summer is ahead of us, let's get barbeque-ready for some of that irresistibly good smoky flavor on National Barbecue Month.
You Can Help Veterans on National Barbecue Month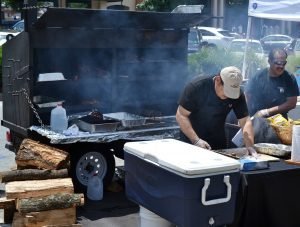 Are you interested in doing a good deed while getting rid of a useless vehicle that's been squatting in your backyard for ages? Truthfully speaking, you're not the only one who thinks that it's an eyesore—your barbecue guests may think so, too. How about getting rid of it by donating it to Veteran Car Donations to support our former servicemen and servicewomen who have difficulties in transitioning to civilian life?
We will auction off your vehicle and use the proceeds to help fund the programs of our charity partners that cater to these needy veterans. These IRS-certified 501(c)3 nonprofits provide their beneficiaries with free mental health care, job training and mentoring, mortgage-free and specially adapted housing, education scholarships, general transitioning assistance, and more.
In return, you'll get to enjoy our free pickup and towing services, quick, hassle-free and no-paperwork donation process, and a healthy tax break in the next tax season.
For more information on our car donation program, check out our FAQs page. For inquiries, you can call us at 877-594-5822 or send us a message online.
If you're ready to donate, you can either fill out our secure online donation form or call us directly. We accept donations of nearly all types of vehicles wherever you are in the United States since we have car donation programs in all 50 states.
Uplift Veterans' Lives with Your Car Donation!
Serving any of the 5 delicious barbecue options we've listed here, you may want to invite the veterans in your neighborhood to a sumptuous barbeque meal. Better yet, call us at 877-594-5822 and help uplift their lives with your car donation!