April 11, 2020
5 Ways to Make Your Pets Feel Loved on National Pet Day
There's a unique kind of happiness that only our pets can bring. They have this unique way of making us feel loved and relaxed whenever we're around them. Every pet is special in its own quirky way — just like everyone has a different personality. They can't really talk to us, but somehow, someway, our pets always seem to know what to do to make us crack a smile or a smirk.
On April 11th of every year, we dedicate a day to our beloved pets. Whether you own dogs, cats, hamsters, or birds, your pets are your best friends and you treat them like family. You wouldn't know what to do if you lose them, but you do know that they will leave a big, gaping hole in your heart when they're gone. Don't wait for that inevitable moment before making your pets feel appreciated. Let's shower our pets with extra love and extra care on National Pet Day!
These Will Definitely Make Your Pets Feel Special
We bet you'd say, "My pet is already special." On National Pet Day, however, let's make them feel even more special! Celebrate this holiday with your furry or feline friend. Pet holidays are few, so don't let this one go unnoticed!
We've listed down five awesome ways of showing love to your pets on National Pet Day. Check them out!
Take your furry friend to a dog park.
If you own a dog, then we bet it'll love to roam around at a dog park. Go with your furry friend wherever it wants to. Play fetch with its favorite ball or rope. Walk with it as it runs around meeting new fur-friends. Your dog will definitely love having you by its side and know its best friend is nearby. Make this extra special by bringing your pet its favorite treats, a meaty snack, or buy it a new toy that it'll love to play with.
Give your pets belly rubs and pats.
Belly rubs, pats — you name it! Every pet loves this, especially dogs and cats. Whenever their favorite people touch or play with them, your pets will be more at ease and relaxed. That means they're very comfortable being around you as opposed to being alert when they're around other people. Thank them for their trust and openness by giving them loving pats and belly rubs.
Photo shoots with your pets.
Not only is this a fun way to pass the time but it also helps preserve memories with your bestest bud. You can even do this with your smaller pets (you just have to be careful you don't accidentally lose them). Get a camera, dress them up if they'll let you, and have fun posing for pictures.
Relax, watch a movie, or take a nap together.
Celebrating National Pet Day doesn't have to be a day filled with romping around. You can spend it just chilling at home with your pets. Since all pets are different, there's bound to be pets that are a bit lazier than others. Lounge around with them and spend the day relaxing.
Give your pets their favorite food.
Everyone loves food — even animals. Every pet has its own favorite meal or snack, so spoil your pets with their faves on National Pet Day! Get a meal of your own, prep their meals beside you, and then all of you can eat to your heart's delight!
Our Veterans Need Your Support, Too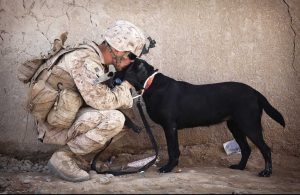 If you're a responsible pet owner, then we bet your pets are never neglected. It's hard to think of our best friends going hungry and feeling unloved. They don't deserve that. This is exactly what's happening to the struggling veterans in our communities. They are going through life with little support or assistance even as they face numerous challenges that prevent them from living a full and happy life.
You can do something simple and easy to improve their living conditions. All you have to do is to donate your unwanted vehicle to us at Veteran Car Donations.
We'll sell your donated vehicle through auction and use the proceeds to support the critical programs and services of our veteran-focused nonprofit partners. Your donation will help these IRS-approved 501(c)3 nonprofit organizations in providing needy veterans and their families with financial assistance, free medical treatment, employment opportunities, family support, and other essential services.
As our vehicle donor, you'll receive a number of great rewards, including getting our free professional towing service and the privilege to claim a substantial tax deduction based on the full selling price of your donated vehicle.
We accept a wide range of vehicles, no matter what their condition is. We can also collect your donation wherever you reside in the United States since our vehicle donation program covers the entire country.
You can get more information about how everything works in our donation process by visiting our FAQs page. For inquiries, call us anytime at 877-594-5822 or send us a message online.
Our Struggling Heroes Need Your Support
Show our heroes the same amount of affection you show to your pets! They surely deserve it. Don't let them feel that they have been forgotten and neglected. Work with us at Veteran Car Donations in building their lives back up again! Donate your car by calling us at 877-594-5822 or filling out our online donation form now!