May 20, 2019
Be Fascinated by these 7 Famous Women Veterans Who Made History
Many male U.S. veterans have been widely recognized for their acts of bravery and heroism. However, let's not forget that many of our female vets also showed exemplary valor and outstanding qualities just like their male counterparts when they were still on active duty.
Of the 1.6 million women who have served in the United States Armed Forces, 10 stood out and made our country proud. They dismantled barriers, paving the way for the inclusion of more women in our military. Here are the 10 exemplary female U.S. veterans:
Eileen Collins
Air Force Colonel Eileen Collins prides herself for being the first female space shuttle commander, claiming the title in 1999. She joined the Air Force in 1979, where she served as a T-28 flight instructor for three years. Before graduating from the Air Force Test Pilot School in 1990, she worked as a C-141 Starlifter aircraft commander, instructor pilot, and assistant mathematics professor at the Air Force Academy.
In 1991, Collins was handpicked by NASA for its astronaut program while she was still attending the Test Pilot School. She would go on to become the first woman to pilot a space shuttle in 1995. Adding to her already impressive credentials, she became the first woman shuttle commander in 1999.
Elsie S. Ott
The first female to receive the U.S. Air Medal, WWII veteran Elsie S. Ott played a major role in the development of medical care in the military. She had a huge part in evacuating wounded military personnel during World War II. Ott also made useful suggestions for military supply flights, including extra supplies for wound dressing, the need for oxygen, blankets, and more coffee.
Before separating from the service in 1946, all her effort and hard work paid off when she was promoted to captain. In 1965, she was chosen to christen an air ambulance, the C-9 Nightingale.
Ann E. Dunwoody
Joining the U.S. Army in 1974, General Ann E. Dunwoody became the first woman to serve as a 4-star general in the Army. She began as a second lieutenant in the Women's Army Corps, where she was assigned to the 226th Maintenance Company, 100th Supply Services and Battalion, Fort Sill, Oklahoma.
She distinguished herself as commander of the Army Materiel Command (AMC) where she ably managed the largest global logistics command in U.S. Army history. After decades of service, she finally retired in 2012.
Harriet Tubman
One of our female veterans who truly deserve our utmost respect was Harriet Tubman. She's notably known for being the first female in the nation's history to lead a military expedition. Having escaped slavery herself in 1849, she helped thousands of slaves attain freedom by escorting them through the Underground Railroad in the 1950s. During the Civil War, she built an espionage ring for the Union and even worked as a spy for them.
Cathay Williams
In 1865, at a time when women weren't allowed to join the army yet, Cathay Williams took the risk and boldly pretended to be a man to qualify as a soldier. After three years of service, she was discharged when she came forward and revealed that she was indeed a woman. She was the first documented black woman to serve the country.
Sarah Emma Edmonds
If there's a woman who deserves the "Master of Disguise" title, we have to give it to Sarah Emma Edmonds. Wanting to get away from her abusive father and a forced marriage, she made her way to Flint, Michigan, where she figured out that being a man made life less complicated during that period. As a result, Edmonds decided to dress as a man to escape the unfair treatment and discrimination of women.
With her new role as a man, she felt obligated to join the military, where she enlisted as a field nurse in the 2nd Michigan Infantry, under the name of Franklin Flint Thompson. Apart from treating injured soldiers and dealing with mass casualties, she also took part in combat, particularly during the Maryland Campaign of 1862.
Edmonds had three other identities: as Irish peddler Bridget O'Shea, Southern sympathizer Charles Mayberry, and—believe it or not—as a black man with the alias of Cuff. She was even believed to have worked as a spy and infiltrated the Confederate army at some point. Although malaria forced Edmonds to leave the military, she continued to work as a nurse at a military hospital, and this time, as a woman.
Deborah Samson
Like Edmonds and Williams, female veteran Deborah Samson also served in the military disguised as a man. Under the alias Robert Shirtliffe, she enlisted in 1778 during the Revolutionary War, where she courageously put her life on the line for her fellow countrymen and women.
Unfortunately, after three years, Samson was discharged by General George Washington. Due to a fever, she had to consult a doctor, who eventually discovered her ruse. Probably feeling sorry for Samson, the doctor decided to keep mum about it but instructed her to send a letter confessing her disguise to Washington.
Support Our Struggling Vets Today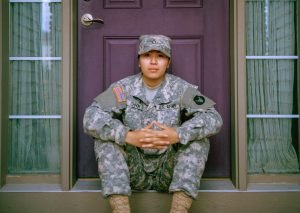 These seven women veterans who made history epitomized the gallantry and patriotism of America's military personnel. That's why we consider our veterans as heroes for the invaluable service they've done for our nation, having fought for us and risked their lives to defend our freedoms and protect our security.
Indeed, we owe them an immense debt of gratitude. One way you can show your gratitude and appreciation is by donating your old and unwanted vehicle to Veteran Car Donations. We will auction off your donated vehicle and invest the proceeds to support the programs of our nonprofit partners that have committed themselves to help out our nation's living heroes who are grappling with service-connected disabilities, mental health issues, lack of jobs, and homelessness due to poverty.
Depending on their needs, our charity partners' beneficiaries are provided with mortgage-free homes, specially adapted and mortgage-free homes, free mental health care, employment opportunities, job training, transitioning assistance, tutoring support, education scholarships, financial assistance, and many other benefits.
You will also benefit from your own charitable contribution since we'll be giving you a 100% tax-deductible sales receipt based on the selling price of your donated vehicle. You can use this to significantly lower your tax bill. Moreover, you'll also get to enjoy free pickup and towing services from us.
For more information on our car donation program, check out our FAQs page. For inquiries, you can call us at 877-594-5822 or contact us online.
You can donate to Veteran Car Donations by filling out our secure online donation form. We accept donations of nearly all types of vehicles wherever you are in the United States since we have car donation programs in all 50 states.
Extend a Helping Hand to Our Heroes
Many of our heroes badly need assistance, which you can easily help provide. Call us at 877-594-5822 and extend your helping hand to them with your car donation!