January 25, 2019
Best National Soup Month Recipes: Enjoy These 6 Tasty Homemade Dishes
Did you know that January is National Soup Month? If you're an inveterate food lover, you'll definitely love January. It's the perfect time for us to enjoy a wide variety of soup dishes—warm or cold, sweet or spicy, smooth or creamy.
One of the reasons why soup makes for a hearty meal is its nutritional value. Not only is it delicious and savory, but it also contains many essentials our body needs. A bowl of soup is packed with protein, dietary fiber, vitamins, minerals, and so much more. This pretty much explains why our moms would often prepare us this dish whenever we got sick when we were still young kids.
Another great thing about this healthy food is that it can be served with other dishes. Whether it's used as an appetizer, a side dish or even a main dish, a bowl of soup is just too good not to be included. It's no wonder that it's always been one of the world's most popular comfort foods!
Give Your Belly a Treat with These Delicious Soup Recipes
Looking forward to a happy tummy all month long? We're sure these tasty homemade soup dishes will do the trick. We've compiled a list of the six best National Soup Month recipes just for you, so check it out below!
Chicken Soup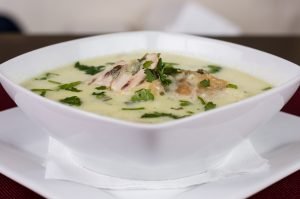 Everyone loves a bowl of good old-fashioned chicken soup. Whether it's for warming up a chilly afternoon or you just can't seem to resist its savory taste, this simple dish has certainly won the hearts of many.
Prep time: less than 30 minutes
Cooking time: 30 to 60 minutes
Serves: 6 people
Ingredients
450 grams (1 pound) cooked chicken, shredded and skinned
2 pits (1.2 liters) chicken stock
2 carrots, finely diced
2 onions, sliced
2 celery sticks, finely chopped
55 grams (2 ounces) butter
1 tbsp fresh parsley, chopped
Salt
Freshly ground black pepper
Procedure:
Place the butter in a large saucepan and melt it over medium Fry the celery, carrots, and onions slowly until they begin to soften.
Stir in the flour and wait for 2 minutes until it's cooked.
Put the chicken stock together with the mixture to the boil. Make sure that you continue stirring them.
Add the seasonings, then turn the heat down until you see the mixture simmering. Boil for 10 minutes until all vegetables turn tender.
Add the cooked chicken. Continue to cook until it's heated through. Be sure to adjust the seasoning, after which you stir in the parsley.
Butternut Squash Soup
Just because it's not the autumn season doesn't mean that you can't enjoy a bowl of butternut squash soup. Not only is this super creamy soup very easy to make, but it's also one of the perfect comfort foods. Pair it with crisps and you'll be having one scrumptious meal!
Prep time: less than 30 minutes
Cooking time: 10 to 30 minutes
Serves: 4 people
Ingredients:
1 butternut squash
600 ml (20 fl oz) vegetable stock (extra stock if you want to loosen your soup)
2 tbsp olive oil
1 onion, chopped
1 heaped tsp hot smoked paprika
Butter, to taste
Salt
Freshly ground black pepper
Crisps
Drizzle olive oil
Few drops of sherry vinegar
Reserved butternut squash peelings
2 tbsp finely chopped rosemary
Procedure:
Soup:
Peel the butternut squash. Keep the strips of skin.
Throw away the pulp and chop off the remaining butternut squash into tiny chunks.
Place the olive oil in a large casserole and heat it. Then, add the butternut squash, onion, and butter, and cook them until they turn brown and caramelized.
Pour the vegetable stock over and let it simmer for 20 minutes. You may then remove it from the heat, allowing it to cool for a while. Afterward, mix them using a food processor or hand-blender.
Add hot smoked paprika, followed by the seasonings.
Crisps:
As for the crisps, start making them by preheating the oven to 140C (275F).
Put the peelings in a roasting tray and top, along with the sherry vinegar, chopped rosemary, and olive oil. Place them inside the oven for 20 minutes and make sure that you set it to low
Take the crisps out of the oven and place them on a kitchen paper.
You may now serve the soup together with the delicious crisps.
Carrot and Ginger Soup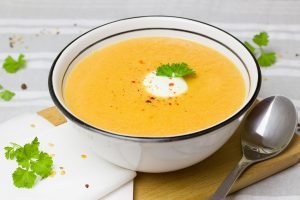 This healthy pureed vegetable soup makes a great lunch or dinner. With the essential nutrients found in both ginger and carrot, incorporating this to your diet plan can be a good idea to maintain a healthy body.
Prep time: less than 30 minutes
Cooking time: 10 to 30 minutes
Serves: 1 person
Ingredients:
200 grams (7 oz) carrots, roughly chopped
20g/¾oz fresh root ginger, peeled and finely chopped
300 ml (10 fl oz) vegetable stock
1 tsp rapeseed oil
1 garlic clove, finely chopped
1 small onion, finely chopped
1 spring onion, finely chopped, to serve
Freshly ground black pepper
Procedure:
Pour the oil in a small saucepan and heat it over medium
Add the onion and cook for 2 to 3 minutes. Then, add the carrots, ginger, and garlic, and cook for 5 minutes. Stir them sporadically.
Use a food processor to blend the soup. Once it starts to smoothen, return it to the pan and gently reheat.
Pour the soup into a serving bowl and garnish it with the finely chopped spring onions.
Spiced Tomato Soup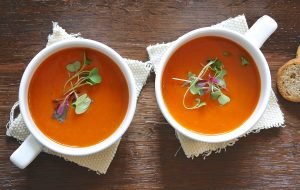 This delightfully creamy soup tastes its finest when the tomatoes are harvested at the end of summer. If your palate is more on the spicy side, you'll definitely love this!
Prep time: less than 30 minutes
Cooking time: more than 2 hours
Serves: 4 people
Ingredients:
Roasted tomatoes:
6 tomatoes on the vine, halved widthways
4 sprigs fresh thyme
4 tbsp olive oil
Soup:
1 onion, roughly chopped
2 kg ripe, mixed tomatoes, roughly chopped
3 garlic cloves, roughly chopped
1-liter chicken or vegetable stock
1 tbsp tomato puree
4 tbsp olive oil
4 tbsp crème fraiche
2-3 tbsp caster sugar
75 ml double cream
Fresh coriander leaves, roughly chopped
2 long red chili, finely sliced
Procedure:
Roasted tomatoes:
Preheat the oven to 150 C (300 F).
Place the tomatoes in a roasting tray and drizzle them with olive oil. Add freshly ground black pepper and salt. Sprinkle the thyme on top of the tomatoes.
Place them into the oven and roast them for about 4 to 6 hours, or at least until they are slightly dried out.
Turn off the oven and let the tomatoes cool. For best results, keep them in the oven for the night.
Soup:
Pour the olive oil in a frying pan and heat it.
Fry the onions for 2 to 3 minutes, or just wait until they soften.
Add the chili, garlic, tomatoes, and tomato paste, and fry them for 2 to 3 minutes.
Add the stock, as well as 3 quarters of the coriander leaves, and boil them. Make sure to reduce the heat, after which you let them simmer for 3 to 4 minutes. Mix them in a blender to a puree.
Pour the soup back to the pan and season it with freshly ground black pepper, sugar, and salt. Stir the cream and simmer for one minute.
Once fully cooked, place the soup into serving bowls. Give it a finishing touch by topping it with roasted tomatoes and a spoonful of crème fraiche. Add dashes of olive oil and don't forget to sprinkle over the coriander.
Minestrone Soup
Traditionally made with tomato broth, this classic Italian recipe makes a hearty and tummy-filling meal. With so many different vegetables in the mix, it's no wonder that it has become a hit for many health-conscious individuals. What's more, you can even try making it with chicken, beef, or sausage!
Prep time: less than 30 minutes
Cooking time: 30 minutes
Serves: 3 to 4 people
Ingredients:
2 stalks celery, sliced
3 large carrots, finely chopped
½ medium onion, finely sliced
2 cups fresh spinach, finely chopped
1 tsp dried parsley
1 tsp dried oregano
1 tsp dried basil
1 tsp minced garlic
1/8 tsp black pepper
1 tbsp oil
540 ml (about 2 cups) canned red kidney beans, rinsed
28 oz canned tomatoes, diced
1 ½ cups dry Rotini pasta
4 cups low sodium chicken broth
2 tsp salt
Parmesan, shredded or grated, to serve
Procedure:
Place the carrots, celeries, onion, and oil in a large pot. Stir them over medium-high heat and wait until the onion softens, which is usually after 3 to 4 minutes.
Add the parsley, basil, oregano, salt, pepper, and garlic. Cook for 1 minute.
Add the tomatoes, beans, spinach, and broth. Cover the pot and bring it to a boil. Then, gently simmer over medium heat for 10 to 12 minutes, or until the carrots are already tender.
Finally, add the pasta and stir. Cover and allow it to simmer for 10 minutes, or you can wait until the pasta has softened.
Pour the soup into the serving bowl and top it with shredded or grated Parmesan cheese.
Bacon and White Bean Soup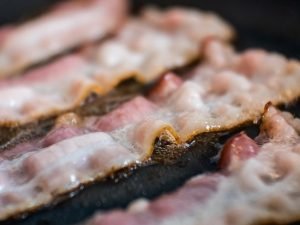 This high-protein soup is both nutritious and delicious. With bacon being an all-time favorite of many Americans, this is a definite must-try meal!
Prep time: less than 30 minutes
Cooking time: 10 to 30 minutes
Serves: 4 people
Ingredients:
2 lean smoked bacon rashers, chopped
3 thyme sprigs
2 garlic cloves, crushed
850 ml/1½ pints vegetable stock
2 x 400g cans cannellini beans, drained and rinsed
2 tbsp parsley, chopped
1 onion, chopped
1 tsp olive oil
Freshly ground black pepper
Procedure:
Heat the oil over medium heat in a large saucepan.
Add the garlic, onion, and bacon. Fry for 3 to 4 minutes or until the onion softens and the bacon starts to turn brown.
Add the thyme and fry for another minute.
Add the stock and beans, and bring to the boil. Turn down the heat and simmer for 10 minutes.
Pour the soup into a food processor or blender and add the parsley and pepper. Blend until they become smooth.
Transfer the soup back to the pan. Heat it through, and ladle it after into 4 bowls.
Take Part in a Worthwhile Cause Today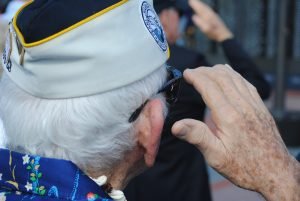 How about cooking one or two of the soup recipes mentioned here one of these days and offering them to the needy veterans and their families in your neighborhood as a token of goodwill? You can show your gratitude and appreciation for the invaluable service they've done for our country this way, and they would certainly appreciate the gesture. Remember that these are our former troops who once fought for us to safeguard our freedoms and keep our nation safe.
Another way you can honor them is by donating an old and unwanted vehicle to us at Veteran Car Donations. We will sell your donated car or truck or motorcycle or any other type of vehicle through auction and use the proceeds to support the programs and services that our charity partners are delivering to various veteran communities throughout America. These IRS-approved 501(c)(3) nonprofit organizations provide impoverished, handicapped, unemployed, sickly, and homeless veterans with mortgage-free and specially adapted homes, free mental health care services, employment opportunities, job training, transitioning assistance, tutoring support and education scholarships, financial assistance, and many other benefits.
What's special about our car donation program is that you will also benefit from your charitable contribution. Our donors get to receive the highest possible tax deduction after their vehicles are sold.
For more information on our car donation program, check out our FAQs page. For inquiries, you can call our toll-free 24/7 hotline 877-594-5822 or send us a message online.
You can donate to Veteran Car Donations by either calling us or filling out our secure online donation form. We accept donations of nearly all types of vehicles wherever you are in the United States since we have car donation programs in all 50 states.
Make a Difference in the Lives of Our Vets
While preparing our best National Soup Month recipes, spare a thought for the struggling veterans in your community. We owe them so much. Call us at 877-594-5822 and make a difference in their lives with your car donation!