June 14, 2019
Celebrate Flag Day with These Fun Facts about the U.S. Flag
Flag Day, which takes place every 14th of June each year, marks a historic event for us Americans. This is the day when we gather together as a nation to commemorate the adoption of our flag by the Second Continental Congress on that same date in 1777.
In 1916, President Woodrow Wilson issued a proclamation officially establishing June 14 as Flag Day.
Even though Flag Day is not an official federal holiday, various events are held in all parts of the country. Many states hold big parades; flags are displayed in all government buildings; and, prior to the event, the President issues a proclamation urging citizens to fly the U.S. flag during any day of that week.
In honor of Flag Day, here are some facts about our flag that are sure to get you intrigued:
Our flag was designed by a 17-year-old boy
In 1958, President Dwight D. Eisenhower had to choose the best design out of 1,500 entries. Out of those options, he decided to pick the 50-star flag we proudly have now. The whole concept was created by Robert G. Heft, a high school student from Lancaster, Ohio.
The idea of Flag Day originally came from Wisconsin teacher Bernard J. Cigrand. In 1885, he encouraged his students to start observing June 14 as "Flag Birthday." He went on to publish an essay in a Chicago newspaper, urging the public to do the same.
As most of you may already know, Neil Armstrong planted the first U.S. flag on the moon in July 1969 during the first moon landing. Five more flags were reportedly planted on the lunar surface following the Apollo 11 mission.
Significance of the 3 colors
Ever wonder what's with the colors red, white, and blue? The red is meant to represent valor and hardiness, the white for purity and innocence, and the blue for justice, vigilance, and perseverance. Add these traits up and we have the values that the United States of America hold dear.
Getting rid of a damaged flag
Does your flag have huge holes already? Instead of throwing it away, dispose of it properly by burning it. If dirt is the only problem, you can always have it washed and dry cleaned.
Did you know that there's actually a proper way to view the flag during parades and ceremonies? The federal flag laws and regulations state that we must face the flag with our right hand over our heart.
Sunrise to sunset display
Except for days with inclement weather, the American flag should be displayed from sunrise to sunset. It can also be displayed for 24 hours, provided that it's illuminated at night.
Our flag's moniker, "Old Glory," got its roots back in 1831, thanks to sea captain William Driver. He coined the name after seeing it flying for the first time on his ship's mast. The flag, which was given to him by his mother, was then displayed outside his house.
Support Our Struggling Veterans with a Car Donation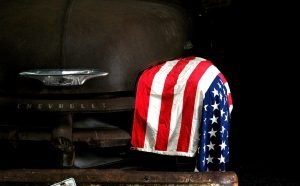 As we celebrate the birth of our nation's flag, it's only fitting that we remember the brave men and women of our nation's armed forces who fought in defense of that same flag and all that it represents. In celebrating Flag Day on June 14, let's honor and express our gratitude for these veterans, many of whom are facing difficult times.
If you have a vehicle you no longer need, consider donating it to us at Veteran Car Donations. We'll auction off your donated vehicle and use the proceeds to support our charity partners that cater to our former troops.
These IRS-approved 501(c)(3) nonprofit organizations provide homeless veterans and those with service-connected disabilities with mortgage-free and specially adapted homes. Those suffering from post-traumatic stress disorder and other mental illnesses are provided with free mental healthcare while those seeking jobs are given employment opportunities and job training. Other underprivileged veterans get to receive transitioning assistance, tutoring support, education scholarships, financial assistance, and many other benefits.
While your vehicle donation will directly impact the lives of our veterans, you, too, will benefit since your charitable contribution will entitle you to a top tax deduction after your vehicle is sold at auction. Moreover, you'll also get to enjoy our free pickup and towing services and our smooth, quick, and no-paperwork donation process.
To find out more information about our vehicle donation program, check out our FAQs page. For inquiries, you can call us at 877-594-5822 or send us a message online.
You can make your donation to us right away by filling out our secure online donation form or calling us at our toll-free 24/7 hotline. We accept donations of nearly all types of vehicles regardless of age and condition. You can also make your donation wherever you are in the United States since we have vehicle donation programs in all 50 states.
Help Transform Lives of Our Heroes
Be a hero to our nation's heroes! Call us at 877-494-4662 and help transform the lives of our struggling veterans and their families with your car donation!