February 5, 2019
February 5—Chinese New Year: Learn Chinese Beliefs And Practices on Welcoming the Start of a New Year
Did you know that the Chinese will be celebrating the beginning of another year on February 5, which is Chinese New Year's Day? The Chinese New Year celebration is probably one of the most extravagant and colorful celebrations in the world. On this day, they congratulate and greet each other for having successfully gone through another year and starting the next one with a clean slate.
Knowing Chinese Traditions
According to Chinese culture, the first day of Chinese New Year begins on the new moon that appears between January 21 and February 20. This year, the first day of the Chinese New Year will be on Tuesday, February 5, ushering in the Year of the Pig.
Just like New Year celebrations in other parts of the world, the Chinese New Year signifies turning over a new leaf. On this day, the Chinese make it a point to spend the day with the closest and most important people in their lives.
You're probably aware of the fact that the Chinese culture meticulously honors a set of beliefs and practices, which is why on February 5—Chinese New Year, families come together to perform rituals and practices as they welcome a new beginning. Here are some of those beliefs and practices:
1. Family dinner
Chinese New Year celebrations are traditionally a family affair. On this day, every family member is required to be present during dinner. Different varieties of Chinese food are served including steamed fish, which according to their belief will bring them wealth in the coming year. If for some reason some family members aren't able to attend the dinner celebration, empty seats will be left for them to signify their presence in the banquet.
The food for the celebration is prepared the day before the event. They do this because they need to put away knives and other sharp objects used for cooking on New Year's Day. If they fail to do so, they believe that these objects will bring bad luck in the coming year.
2. Fireworks and firecrackers
The Chinese celebrate the New Year with loud explosions because they believe the loud noises of the firecrackers and fireworks will scare away evil spirits that bring bad luck. Westerners and other people also use fireworks when they ring in the New Year at midnight on December 31.
3. The dragon dance
The famous dragon dance is performed during Chinese New Year. It is performed by a group of people who dance while holding poles placed along the length of a flexible figure of a dragon. The dancers simulate the imagined movements of the dragon to the sound of drums and cymbals. Again, the Chinese believe that this colorful iconic dance will bring good luck to their homes and businesses.
4. Cleaning before New Year
As much as possible, the Chinese avoid dusting and cleaning on New Year's Day since they believe this can sweep away good fortune. Instead, they clean their houses on the days leading up to the New Year. They also believe that cleaning before New Year's Day can help sweep away bad luck from the previous year.
5. Lai See
Lai see are small red envelopes with "good luck" money inside, which the Chinese give to youngsters during this annual celebration. Chinese bosses are also required to give each of their employees a Lai See.
Give Our Vets a New Reason to Hope for Better Times Ahead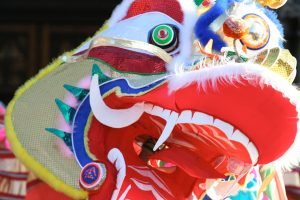 As Chinese communities all over the world celebrate a new beginning on February 5—Chinese New Year, why don't we also give our struggling military veterans a new reason to hope for a better life ahead?
You can easily do that by donating a vehicle you no longer need to Veteran Car Donations. We will auction off your donated vehicle and use the proceeds to support the programs of our nonprofit partners that cater to jobless, handicapped, mentally troubled, impoverished, and homeless veterans. These IRS-certified 501(c)(3) nonprofit organizations provide their beneficiaries with free mental health care, employment opportunities and job training, transitioning assistance, tutoring support, education scholarships, financial assistance, and many other benefits.
While your vehicle donation will bring immense benefits to our veterans and their families, you will also get rewards for your charitable contribution. These include receiving a 100% tax-deductible receipt that will entitle you to claim the highest possible tax write-off based on your vehicle's selling price or fair market value.
For more information on our car donation program, check out our FAQs page. For inquiries, you can call our toll-free 24/7 hotline 877-594-5822 or send us a message online.
You can donate to Veteran Car Donations by either calling us or filling out our secure online donation form. We accept donations of nearly all types of vehicles wherever you are in the United States since we have car donation programs in all 50 states.
Give the Veteran Community in Your Area a New Boost
To mark February 5—Chinese New Year's Day, why not give the veteran community in your area a new boost? Call us at 877-594-5822 and transform the lives of our nation's heroes with your car donation!