December 3, 2019
December 3, National Disability Day: 6 Ways to Impact Lives of PWDs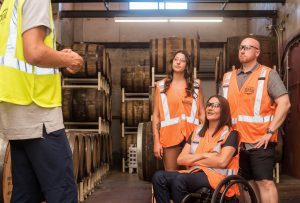 National Disability Day, also known as International Day of Disabled Persons, takes place annually on the third of December. It's a special day that was declared by the United Nations in 1992 to promote the rights and well-being of persons with disabilities (PWDs) all over the world. The event is also meant to increase public awareness of the challenges faced by PWDs in all aspects of their lives.
The annual observance encourages everybody to treat PWDs as equals while showing them understanding and sympathy. Also on this day, persons struggling with physical or mental impairments are given reassurance that they are just as productive and valuable as everyone else despite their handicap.
The event gives us the chance to learn more about these individuals, the struggles they continue to face in society, and what we can do to help them overcome such challenges.
6 Ways of Impacting Lives of PWDs
National Disability Day gives us an opportunity to render meaningful assistance to PWDs. Are you eager to know how you can actively help these disadvantaged individuals in your community?
It's our pleasure to offer you six tips on how you can impact the lives of these people:
Work as a volunteer.
Make your way to the nearest senior home that has disabled residents. Ask if you can work there as a volunteer. If that's not possible, you can just spend time and exchange stories with the disabled residents.
Lend a helping hand.
Do you know someone with a physical disability? Do their chores and errands on National Disability Day while they spend the day relaxing, catching up with their loved ones, or taking time for themselves.
Help raise funds for PWDs.
Attend a fundraising event in your community. Better yet, organize your own. Invite your friends and family to tag along!
Offer assistance.
If you see a visually impaired person struggling with a task, ask if they need assistance. If they give you a nod, ask what you can do to help. Keep in mind that most disabled people don't want to see themselves as burdens to others. If they insist that they can handle a situation on their own, they really mean it, so let them be.
Educate yourself.
Read about the challenges that persons with disabilities go through on a daily basis. Having a clearer understanding of their situation will enable you to help them in a meaningful way.
Spread the word.
The more people know about the cause you're supporting, the more PWDs would be given care and attention. Post messages online, distribute fliers, talk to your colleagues – whatever it takes to get your voice heard.  
We Are Here to Help Our Disadvantaged Vets
The Department of Labor's Bureau of Labor Statistics reports that as of August 2018, an estimated 4.7 million of our vets had service-connected disabilities. Unfortunately, many of them receive little to no support at all. They are unable to find gainful employment and have become a burden to their own families. Some ended up living on the streets, begging for alms from passersby just to have something to eat.
The good news is that all hope is not lost for these men and women who once proudly served our nation as defenders of our freedom and protectors of our security. That's why they're called our nation's heroes.
We at Veteran Car Donations, along with our IRS-certified 501(c)3 nonprofit partners, are passionately working to ensure that they get the assistance they badly need. We take old cars and other types of vehicles, sell them through auction and use the money to fund the critical programs of our charity partners that are geared toward improving the lives of needy veterans.
You may not know it yet, but a worn-out clunker that's just gathering dust in your garage can become a powerful tool that can uplift the lives of our veterans once it enters our program. The disabled vets in your city will have a chance to own specially-adapted and mortgage-free homes as well as gain access to free physical and mental health care services. You'd also make it possible for them to get matched with jobs best suited for them. Other needy veterans will also have a chance to receive employment opportunities, job training, education scholarships, transitioning and financial assistance, counseling, and many other benefits.
How You'll Benefit from Your Own Donation
While your vehicle donation will directly impact the lives of our underserved veterans, it will also benefit you in more ways than one. For one thing, your charitable contribution will entitle you to receive a top tax deduction after your vehicle is sold at auction. Moreover, you'll get to enjoy our FREE pickup and towing services and our quick and hassle-free donation process where you don't have to do any paperwork.
It doesn't matter if you're donating a vehicle that has dents and scratches or a few missing or malfunctioning parts. We'll still accept it. We'll even have your vehicle fixed and polished to increase its value before putting it on the auction block.
We welcome nearly all types of vehicles. You can also make your donation wherever you are in the United States since we have vehicle donation programs in all 50 states.
For more information about our vehicle donation program, check out our FAQs page. If you have questions, you can call us anytime at 877-594-5822 or send us a message online.
Ready to Make a Difference on National Disability Day?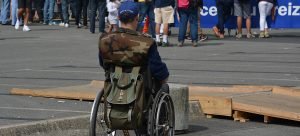 Are you ready to make a difference in the lives of the disabled vets and their families in your community? Call us at 877-594-5822 or fill out our online donation form to get started with your car donation now!