September 8, 2018
Spend Time with Your Elders on Grandparents Day
Are you ready to spend priceless moments with your grams and gramps on this year's Grandparents Day this September 9? If you're lucky enough to have them in your life, we encourage you to celebrate them, cherish them, and visit them on this special day while you still can.
History of Grandparents Day
Did you know that had it not been for the persistent and powerful persuasion of a simple housewife from the state of Virginia to set aside a day to honor every grandparent, President Carter wouldn't have officially declared such a holiday in 1978? For this reason, Marian Mcquade deserves all the credit for showing America how important it is to show love and support for our grandparents.
Top 4 Benefits of Spending Time with Grandparents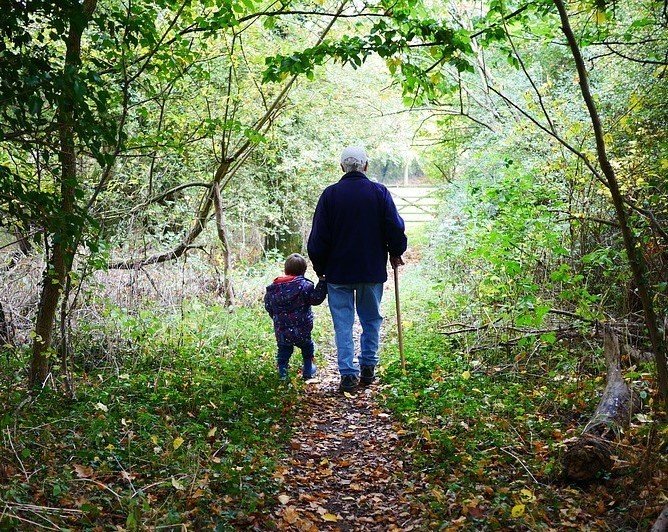 This might sound surprising, but the benefits of strengthening the unique bond that we formed with the first adults that we met in our lives—aside from our parents—go way beyond the awesome Christmas presents that we looked forward to receiving from our grandparents every year or getting an extra cookie from them when no one's watching. The truth is, building great relationships with our grandparents can do a whole lot of good for the family more than you can ever imagine.
It sharpens your people skills.
More time spent with your grandparents will undoubtedly cause you to become better at interacting with others—an extremely critical factor when it comes to navigating interpersonal relationships with the people around us. For example, those of us who spent times with "mawmaw" and "pawpaw" on a regular basis—whether on weekends or during summer vacations—tend to learn how to feel more secure and loved even when our own parents are not around. Not only that, but we learn how to adapt to certain rules that are different from those in our own home.
Another plus is the advantage of gaining valuable insights from our grandparents on life issues such as managing conflicts and handling the pressures of life that only years of experience can teach. Your grandparents have the patience to impart these insights to you.
It heightens your emotional intelligence.
We need not overemphasize the importance of learning how to better understand people and how to work cooperatively with those who have motivations that are different from ours. This ability to read and react to the nonverbal signals that others provide is called emotional intelligence, which is one of the essential factors in attaining success in life. For instance, you'll get a refresher course on successful marriage if you see your grandparents treat each other with respect and affection.
It helps you form positive habits.
In this day and age when everyone's schedules are packed and time seems to move faster than we want it to, instilling important habits to our kids can be quite a challenge. If you're a parent who juggles two jobs or more to make ends meet, having the kids spend regular days in a week with their grandparents will give them countless opportunities to learn positive habits such as having a healthy balance of sweets and greens, cooking and baking, carpentry, taking walks in the park, listening to clean music, and watching wholesome films. Unlike most of us, our grandparents usually have a lot of free time, so they have a lot of time for their grandchildren.
It prevents depression.
When retirement happens or when their children become independent, our elders may feel insignificant. Did you know that the moment you hold your granny's hand, her feelings of isolation and worthlessness fade away? Connecting with our grandparents will definitely ward off depression and help them live longer and fuller lives.
Time is Precious
While you still have your whole life ahead of you, your grandparents may not have much time left. Let them know they are loved. On Grandparents Day this September 9, give them a call or better yet, drive over to meet them if you can.
Donate a Car on Grandparents Day!
If your grandparents happen to be military veterans, you must be proud of them for having selflessly served our country. As a way of showing your gratitude to the servicemen and women who fought the good fight to preserve our freedom and protect our nation's security, why not donate your old and unwanted vehicle to Veteran Car Donations for the benefit of our veterans on Grandparents Day?
We at Veteran Car Donations sell vehicles donated to us through auction and use the proceeds to support critical programs aimed at alleviating the condition of our veterans who are impoverished, homeless, unemployed, and having service-connected health issues including physical disabilities and still untreated mental disorders.
To know more about Veteran Car Donations, our donations process, and the rewards you'll get for your charitable contribution—including a handsome tax deduction—feel free to call our toll-free 24/7 hotline 877-594-5822. You can also visit our FAQ's page or send us a message online. You can make your car donation by filling out our online donation form. We accept vehicle donations anywhere in the United States since we have car donation programs in all 50 states.
Have a meaningful celebration of Grandparents Day this September 9 by donating a vehicle to Veteran Car Donations! Call us at 877-594-5822 now!