March 20, 2019
Happiness is Contagious—Spread it in Your Community On International Happiness Day this March 20!
What makes you happy in life? Is it seeing your hard work finally pay off with the promotion you've just received? Or is it as simple as going to your favorite diner with your best friends?
Whatever they are, we're pretty sure those happy moments have made you flash that radiant smile and felt grateful for the blessings you've been given. This 20th of March, expect to see smiling faces in your school, workplace, community, or just about anywhere you go. It's International Day of Happiness!
Launched by the United Nations, this annual event promotes happiness in the world, with the proponents urging people worldwide to spread the cheer and make the world a better and happier place to live in. With this year's theme of "Share Happiness," every one of us is invited to take part by simply showing kindness to anyone we meet. It's a day to set aside all the negativity in the world and just fully embrace happiness among ourselves and spread it to others.
Choose Happiness!
Can you still remember the good old days where as a kid, simple things like going to the playground or buying a new toy could bring you so much joy? Isn't it unbelievable how such little things could make your entire day brighter way back then?
Of course, as you grew older, your sources of happiness also grew with you. Life has become much more challenging—playtime has turned into a 9-5 work routine; relationships have become more complicated, and blissful moments are now quite rare. However, that doesn't mean you couldn't enjoy life like you used to anymore.
Let's face it: Life's not all about rainbows and giggles. Problems are unavoidable, and it's completely up to you to take charge and handle them positively. If you're the type to see the bad in every stressful situation, it's time that you change your mindset, stay optimistic, and know that there's always something wonderful that awaits you.
There are so many reasons to be happy even though you may feel you only have little of those reasons at the moment. It doesn't have to be all fancy and glamorous. After all, happiness is free.
Got a roof to live under? Do you have a good job that not only sustains you but makes you feel worthy as well? Do you have a healthy mind and body that keep you going towards your goal?
Having wonderful and supportive loved ones in your life is also another thing to be grateful for. Imagine having nobody by your side when you're feeling lonely and no one to share your happiness when you just received good news. How awful would that be?
If you have these things and people in your life right now, there's no reason for you to be grumpy at all.
Pass the Joy Around!
While the simplest way of celebrating International Day of Happiness is by being cheery, it would be a lot more meaningful if you infect others with your positive mood! Here are several ideas on how you can do that:
Compliment a stranger.
Offer to help your neighbor with their chores.
Take a friend or co-worker out for coffee.
Visit a local orphanage or senior center and spread cheer to residents there.
Do volunteer work.
Surprise your colleagues with yummy treats.
Our Veterans Need All the Happiness They Deserve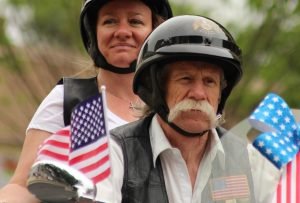 Even as each of us deserves to be happy, our former troops are among those who badly need some sparks of joy in their lives perhaps more than others. After placing their lives on the line for us, repaying them with simple appreciative gestures is the least we can do. If you want to support our veterans who are beset with various problems, all you need to do is donate to us your old and unwanted car.
At Veteran Car Donations, it has always been our goal to make our nation's heroes happy, especially with everything they've done for our country. We help these brave men and women get back on their feet with the donated vehicles we receive. We sell at auction these vehicles and use the proceeds to support the programs of our IRS-certified 501(c)(3) nonprofit partners.
These nonprofits are dedicated to providing all sorts of benefits to our veterans, active-duty members of our armed forces, and their families as well. For instance, homeless veterans are given the chance to own mortgage-free homes while those who have service-connected disabilities are also given the opportunity to own mortgage-free and specially adapted homes. Other needy veterans receive free mental health care, employment opportunities, job training, transitioning assistance, tutoring support and education scholarships, financial assistance, and many other benefits.
While your vehicle donation will directly impact the lives of our veterans, you will benefit as well since your charitable contribution will entitle you to a top tax deduction.
For more information on our car donation program, check out our FAQs page. For inquiries, you can call us at 877-594-5822 or send us a message online.
You can donate to Veteran Car Donations by either calling us or filling out our secure online donation form. We accept donations of nearly all types of vehicles wherever you are in the United States since we have car donation programs in all 50 states.
Put Smiles on the Faces of Our Vets with Your Car Donation!
If you want to spread joy on International Happiness Day this 20th of March, what better way to do that than by reaching out and extending meaningful assistance to our nation's struggling heroes to show your gratitude for all the sacrifices they've done for our nation. Call us at 877-594-5822 and put smiles on their faces with your car donation!