July 2, 2019
How Many U.S. Military Members Do We Have Today? Find Out the Latest Demographics Here!
When the United States ended its military draft or conscription in 1973, our armed forces had 2.2 million servicemen and servicewomen. Fast forward to 2018, our military still had a little more than 2 million personnel. The latest estimates put U.S. military strength at 2,141,900 personnel, with 1,281,900 active personnel and 860,000 reserve members.
While we may have kept ourselves up-to-date with the latest developments involving the U.S. military, only a few may have an idea about our military's demographics. To shed more light on this, Veteran Car Donations has gathered the latest information about our armed forces, including the ages and races of its personnel, the military branches, and positions. We got everything you need to know about the U.S. military here.
Number of U.S. Military Personnel
The United States remains as the world's leading military power in terms of firepower.
The United States Department of Defense has five service branches – the Army, Navy, Air Force, Marine Corps, and Coast Guard.
The U.S. Army, which is responsible for land-based military operations, remains as the largest branch of the United States military despite the decline in the number of its personnel over the years. The number of Army personnel decreased from 561,979 active members in 2010 to 472,047 in 2017.
The U.S. Navy has also seen a drop in the number of its personnel – from 323,139 active members in 2010 to 319,492 in 2017. Despite this, the U.S. Navy is the biggest in the world. It has the largest and biggest number of aircraft carriers with 11 full-sized carriers and eight "helicopter carriers" in service.
Likewise, the membership in the U.S. Air Force is on the decline. In 2010, there were 329,640 active personnel. In 2017, the number dropped to 318,580. Nevertheless, the U.S. Air Force has the largest and most technologically advanced air fleet in the world.
As for the Coast Guard and Marine Corps, the latest estimates put their strength at 345,153 and 184,401 active members, respectively.
In terms of the number of their personnel, the U.S. Army and Marine Corps may not be the largest compared to those of other world powers. However, they are some of the most capable.
Moreover, the U.S. Army, Navy, Air Force, and Marine Corps are trained to work together on a battlefield, combining their powers into one joint team.
Military Ranking
The U.S. military is comprised of 10 rankings, with General being the top position. Below, you'll find a comparison of the total population of different military officers between 2016 and 2018.
| | | |
| --- | --- | --- |
| Rank | 2016 | 2018 |
| General (O10) | 12 | 11 |
| Lieutenant General (O9) | 47 | 45 |
| Major General (O8) | 139 | 124 |
| Brigadier General (O7) | 149 | 129 |
| Colonel (O6) | 4,386 | 4,152 |
| Lieutenant Colonel (O5) | 9,904 | 8,913 |
| Major (O4) | 16,835 | 14,902 |
| Captain (O3) | 30,679 | 28,870 |
| 1st Lieutenant (O2) | 13,387 | 12,587 |
| 2nd Lieutenant (O3) | 7,212 | 7,301 |
As seen here, the numbers of U.S. military officers – with the exception of 2nd Lieutenant – went down in a span of two years.
Gender and Ethnicity
Among the 195 countries in the world, the United States is one of the few known for their cultural and racial diversity, with six different ethnic classifications recognized by the Census Bureau. Men and women belonging to any of these categories are also eligible to join the U.S. military.
| | | |
| --- | --- | --- |
| Ethnicity | Active-duty Enlisted Men | Active-duty Enlisted Women |
| Caucasian | 69.65% | 53.05% |
| African-American | 17.02% | 29.78% |
| Hispanic | 16.75% | 19.57% |
| Asian | 4.27% | 4.82% |
| American-Indian; Alaskan | 1.26% | 1.47% |
| Pacific Islander; Native Hawaiian | 1.17% | 1.64% |
| 2 or more races | 3.08% | 4.65% |
| Unknown | 3.53% | 4.59 |
Number of U.S. Veterans Also on the Decline
The latest U.S. military demographics showed a downward spiral in the number of American military personnel. A similar decline is shown in the latest estimates on the number of American veterans. There were around 20.4 million U.S. veterans in 2016. A year later, the number went down to 18.2 million, which is the latest estimate by the Census Bureau.
However, these figures do not diminish the fact that many of our former servicemen and servicemen are suffering from service-connected disabilities, mental health issues, lack of jobs, and homelessness due to poverty.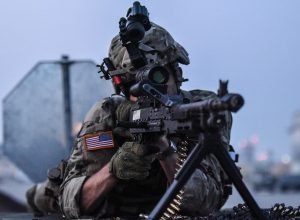 You can show your appreciation and gratitude for the invaluable service our veterans rendered for our nation by donating a car you no longer need to us at Veteran Car Donations. We will auction off your donated vehicle and use the proceeds to support our charity partners that cater to our former troops.
These IRS-approved 501(c)(3) nonprofit organizations provide homeless veterans and those with service-connected disabilities with mortgage-free and specially adapted homes. Those suffering from Post-Traumatic Stress Disorder and other mental issues are provided with free mental health care while those seeking jobs are given employment opportunities and job training. Other underprivileged veterans get to receive transitioning assistance, tutoring support, education scholarships, financial assistance, and many other benefits.
In return for your charitable contribution, we'll send you a 100% tax-deductible receipt that will entitle you to claim a top tax deduction. This can lower your tax bill when you file your itemized federal income tax return in the next tax-filing season. Moreover, you'll also get to enjoy free pickup and towing services from us.
For more information on our car donation program, check out our FAQs page. For inquiries, you can call us at 877-594-5822 or send us a message online.
You can donate to Veteran Car Donations by filling out our secure online donation form. We accept donations of nearly all types of vehicles wherever you are in the United States since we have car donation programs in all 50 states.
Extend a Helping Hand to Our Aging Vets Today!
Our veteran population is rapidly aging, thus needing more and more of our support and assistance. Call us at 877-594-5822 and improve their living condition with your car donation!