January 21, 2019
How to Be More Environmentally Friendly: Donate Your Old Vehicle
If one of your New Year's resolutions is to learn how to be more environmentally friendly, all you have to do is to donate your old, gas-guzzling, oil-leaking, and smoke-belching vehicle to Veteran Car Donations. Donating such a vehicle through our service is not only an effective way to reduce pollution in our streets to help save our home planet. It is also a sure-fire way to improve the living conditions of our former servicemen and women who are facing the most difficult times in their lives.
Cars aren't environmentally friendly in the first place. However, old vehicles are a lot worse because they're much less efficient and they burn dirtier fuel. In fact, a study conducted by the University of Toronto in 2015 discovered that older vehicles are 90% responsible for polluting the air.
All cars eventually reach the end of their usable period of service. By the time it does, donating it to charity is the best option you have—much better than reselling it yourself.
How Donating Your Clunker Benefits the Environment
Amid the gargantuan problem of global warming, how to be more environmentally friendly should be one of our main considerations in life. Let's dig deeper into how donating your old vehicle could benefit our environment:
Selling your old vehicle could mean that it would continue to be on the road, releasing harmful substances and polluting the air we breathe.
As the car ages, it develops fluid leaks. Eventually, all the leaks will add up. As a result, oil, gases, antifreeze, and other fluids your vehicle uses could leak off and contaminate the soils and waters.
Most car parts can be recycled. The charity you'll be giving your vehicle to will know a bunch of recycling yards that would gladly make good use of the recyclable bits of your old vehicle. These automobile recyclers follow the highest standards of vehicle disposal by making sure that they do it without posing harm to the environment, thereby making their operation as "green" as possible.
The idea of reusing the parts of your old vehicle is environmentally-friendly itself. For example, recycling the steel lessens the need to look for sources of raw materials—primarily through mining—that would be needed in manufacturing steel. In addition, recycling steel saves a lot more energy than creating it from scrap.
Once you donate an old car to Veteran Car Donations, our team of experts would assess whether we sell it at auction after doing some repairs or recycle your car's parts if its overall condition is beyond redemption. In other words, deciding to give away your old and inefficient car to charity means one less source of pollution in our environment
Donate Now!
Veteran Car Donations accepts a wide variety of vehicles. By following these three easy steps, you can bid your unwanted car farewell and, at the same time, help save Mother Earth.
Fill out our secure online vehicle donation form or else call us at our toll-free 24/7 hotline 877-594-5822. We will need a little bit of your personal information as well as your car's details such as its make, model, year, and location.
Your vehicle will be picked up by a licensed towing company at a time and date that are convenient for
A tax-deductible sales receipt will be mailed to your address after we sell your car at auction. You'll need the receipt in claiming your tax deduction when you file your itemized federal income tax return for the upcoming tax-filing season.
For more information on our car donation program, check out our FAQs page. For inquiries, feel free to call us at 877-594-5822 or send us a message online.
We accept vehicle donations wherever you are in the United States since we have car donation programs in all 50 states.
Make Your Earth-Friendly Vehicle Donation Now!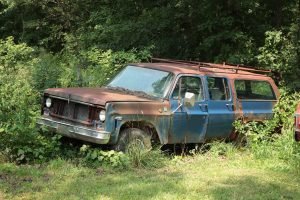 If you're truly keen on how to be more environmentally friendly, there is no simpler and better option than to donate your old clunker to a charity like Veteran Car Donations. Such a good deed will not only help reduce pollution in our environment but also give life-transforming benefits to our veterans who truly deserve them. Call us at 877-594-5822 and get free towing services for your earth-friendly vehicle donation!