September 17, 2019
The Veterans (Beginners) Guide to Mindfulness
Are you aware of the fact that when service members come home and get separated from the service after completing their tour of duty overseas, they bring with them a litany of challenges? These spring from their difficulties in transitioning to civilian life due to combat-related disabilities, inability to find jobs, feelings of alienation, and mental health issues such as post-traumatic stress disorder (PTSD).
In case you're not aware, our veterans are the ones most susceptible to suffer from depression, anxiety, PTSD, and other mental health issues due to their traumatic experiences in the battlefield where they witnessed gruesome and shocking events including the deaths of their comrades and civilians. Their mental health condition is not helped by their lack of resources to address their problem. These unaddressed issues have pushed some veterans to the brink, resulting in suicides.
Thankfully, there are a growing number of veterans who have discovered that mindfulness helps them confront the mental health issues they're facing and find relief from them. They found out that living with a purpose in life and looking at things and situations without judgment held the key to the answers they've been searching all this time.
How Mindful Awareness Helps
Mindful awareness helps you become aware of what you feel and what you're currently thinking. It lets you think of the present and what is important to you. It lets you forget and bury the past, including those crippling memories of traumatic events.
By being aware, you will be able to know yourself better and discover the things that work for you. Since the only person who knows these things is you, it's important that you tap into this knowledge and use it to your advantage.
Tips for Practicing Mindful Awareness
To give you a head start, Veteran Car Donations shares the Veterans (Beginners) Guide to Mindfulness.
Start with a beginner's mind.
Be intentional at being open to the practice of mindful awareness. This means not letting your past experiences and your assumptions taint your attempt at being mindful. Doing so will help you stay grounded.
Nobody gets it on the first try. Try to practice mindfulness for at least 8 minutes each day, doing mindful awareness exercises. Work your way up from there.
Mindful awareness exercises can be adjusted according to your needs.
Don't be surprised or discouraged if your mind wanders off in your first few attempts. When this happens, take a deep breath and be aware of how you feel as you breathe in and out before you gently allow yourself to continue your practice.
3 Exercises to Do to Practice Mindfulness
Here are the exercises you need to do to master the art of mindfulness and thus reap its benefits:
Raisin Exercise
In this exercise, a facilitator would ask you to pretend that it's your first time to see a raisin. You will be asked to describe the characteristics of the raisin. This exercise allows you to be aware of what is currently happening at the moment.
Body Scan
The body scan allows you to become aware of how each of your body parts is feeling while you lie flat on your back with your eyes closed. As you take a deep breath in and out, try to focus on the rising and falling of your belly before you move on to the other parts such as your toes or the soles of your feet.
Mindful Movement
This exercise helps you focus on the parts of your body that often carry a lot of stress. While sitting, breathe in and out, feeling your belly as you do this. Focus on one part of your body at a time—your jaw, neck, and shoulders. If you feel like they carry tension, use mindfulness to release the stress.
Support the Vets in Their Recovery Efforts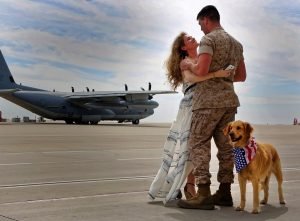 You can easily do something to help our veterans overcome their present challenges. If you have an old and unwanted vehicle lying around, you can donate it to us at Veteran Car Donations. We'll use the funds generated from the sale of your vehicle to meet the urgent needs of our nation's heroes.
Our IRS-certified 501(c)3 nonprofit partners work hard to provide vital assistance to disadvantaged veterans to help them live the life they deserve. With your donation, you can help provide them with benefits such as mortgage-free and specially adapted housing, free mental healthcare, employment opportunities, job training, transitioning assistance, tutoring support, education scholarships, financial assistance, life skills training, counseling, and many others.
You are assured of a most satisfying giving experience since our donation is quick, convenient, and requires no paperwork from you. We also provide you with free pickup and towing services. To top it all off, your charitable contribution will enable you to significantly reduce your tax bill next season through the 100% tax-deductible sales receipt that we will issue you days after we sell your vehicle at auction.
For more information about our charitable program, you can visit our FAQs page. For inquiries, you can call our toll-free 24/7 hotline 877-594-5822 or send us a message online.
You can donate to Veteran Car Donations by filling out our secure online donation form or calling us directly. We accept donations of nearly all types of vehicles regardless of their age, mileage, and condition. You can donate wherever you are located in the United States since we have car donation programs in all 50 states.
Time to Show Gratitude to Our Heroes
How about showing gratitude to our nation's heroes for defending our liberties and protecting our security? Call us at 877-594-5822 and uplift their lives with your car donation!