September 7, 2019
How to Prepare for Boot Camp
Did you just get that acceptance letter that you passed the criteria to go into boot camp? Are you ready to take on the journey from civilian to soldier?
Whoever said that basic training was tough knew what they were talking about. Be ready to get pushed and tested beyond your limits every single day as you endure extreme levels of physical and mental stress. At boot camp, you'll also come to understand that your ability to perform at your best amid harsh conditions will be the difference between life and death.
If you want to increase your chances of surviving this grueling challenge, you'll need to learn about the mental demands of boot camp and build your physical strength in the months leading up to your ship date.
What to Expect at Boot Camp
If there's one thing that you shouldn't be before you show up on day one of boot camp, it's to be overweight and have muscles and joints that are not in the right condition to handle intense physical activities for long periods of time. Don't even think about starting to get in shape when you get to boot camp. Your goal should be to go into basic training already in top physical shape. If you don't prepare beforehand, you'll physically and mentally break down as you fight an uphill battle.
How to Prepare for Boot Camp
To help you compete with others rather than just survive basic training, Veteran Car Donations gives you essential tips on what you need to do to prepare for a boot camp:
Build upper body strength.
At boot camp, you may need to handle an opponent, jump walls, and climb fences using ropes. That's why you should make sure that your upper body can handle it. You'll also be doing push-ups, sit-ups, and pull-ups and also practice with weights. Never assume that these skills can be accomplished without practice.
Run.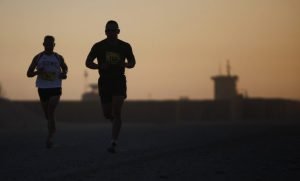 At boot camp, you'll be running from one place to another with your gear on your back. Months before your first day at basic training, make sure that your body is conditioned to run for a minimum of 15 to 20 miles a week. This will create a great base to handle the training programs without getting yourself injured.
Know and practice the specialty tests.
Do your research to find out what's expected of you during and after basic training. For instance, if you're thinking about joining the Army, practice doing a ruck march (running with a backpack on and walking fast). If you want to join the Navy, practice swimming.
Eat foods that fuel the body.
Instead of relying on energy drinks that only spike your central nervous system with just caffeine and sugar, start eating healthy foods to have sustainable fuel for workouts. Lean meats, fruits, vegetables—you'll need the foods that are rich in carbs and protein to keep you physically prepared for training.
Be within the weight standards.
If you're overweight on the first day of training, your condition will make it more difficult for you to run, complete obstacle courses, and physically stay up with the whole class. If you're a big muscled person, don't let your strength or power get in the way of your cardiovascular endurance. You'll have to work at your 6- to 7-minute mile pace before you go into boot camp.
Learn the ranks.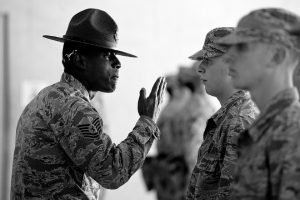 There is a saying, "If you're going to be stupid, you better be strong." You will most likely pay the price in extra physically demanding duties for not knowing about the ranking system or the bits of historical information about famous people and heroes who are associated with your unit. Keep your brain sharp by learning about them.
Be a team player.
Unless you're a team player, you won't fare well in the military. During your basic training, you'll be assessed on how well you follow orders, develop ideas and share them with your team. As early as now, it would be best to learn these skills by getting involved in team sports or some community action groups.
Stay motivated.
To keep yourself motivated, remind yourself that you're presented with the opportunity to serve your country and that your ability to save your partner or any victim is dependent on your fitness level.
Make a Veteran Smile Today!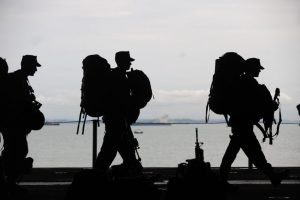 If you think that it's only right for those who willingly served our country to have safe and secure living conditions, a stable and rewarding civilian job, free mental healthcare, opportunities for education as well as general transitioning assistance, donate an unwanted vehicle to Veteran Car Donations today!
We work with reputable IRS-certified 501(c)3 nonprofit organizations to give our beloved veterans all the help that they need so that they can successfully build a promising future for themselves and their families.
Aside from that warm, fuzzy feeling you'll get, knowing that you'll be transforming lives with your donation, you'll also receive your own share of rewards, including a maximum tax deduction in the next tax season and free towing services.
To get started with your vehicle donation, feel free to call us at 877-594-5822 or fill out our online donation form. If you need additional information about the ins and outs of our car donation process, you can send us a message online or visit our FAQs page now.
We accept donations of nearly all types of vehicles regardless of their age and condition, which means you can hand over even vehicles that are no longer in the best of shape. You can also make your donation wherever you are in the United States since we have Veteran Car Donations.
Make Vets Smile with Your Car Donation!
It's easy to make a vet smile—just donate your car! Call us at 877-594-5822 and get started with your car donation!