March 8, 2020
It's Time to Set Your Clocks Again. Daylight Saving Time Begins!
Exactly at 2 a.m. on the 8th of March, people in most parts of the United States will need to adjust their clocks and watches an hour ahead. It's the official start of Daylight Saving Time or DST!
While most states are mandated to observe DST, there are some that choose not to. Hawaii, Arizona (except the Navajo Nation), Guam, Puerto Rico, and a few other U.S. territories, stick to standard time the entire year. Indiana only decided to take part in April 2006.
Why Do We Have Daylight Saving Time?
It's always good to know the reason behind DST – whether you like it or not. Clocks are set ahead to make better use of natural daylight at night. This can only mean longer summer evenings for everyone living in places that follow DST.
A number of studies point out that daylight saving can help conserve energy. However, others dispute that, alleging that DST's effects are actually quite the opposite.
Who Came Up with Daylight Saving Time?
Many believe that it was Ben Franklin who conceived the idea of daylight saving. This came about after he offered advice to change clocks to align with nature.
The person who actually deserves credit for the introduction of DST is English builder William Willett. He proposed the idea of setting the time 20 minutes ahead on all four Sundays of April and reverting the time on the Sundays of September. After many failed attempts, the first daylight saving bill was introduced in the United Kingdom by Parliament in February 1908.
The Other Places That Observe Daylight Saving
There are currently 70 countries that follow DST, including the U.S. Most areas in North America and Europe observe daylight saving while most countries in Asia and Africa don't observe the practice. Tropical countries are among the non-participants since they see no point in moving their clocks forward.
Help Us Make Positive Changes in the Lives of Our Vets
Did you know that you can transform the lives of your community's disadvantaged veterans with a simple vehicle donation? Whatever type of unwanted vehicle you got – an old car, motorbike, RV, or boat – we at Veteran Car Donations would love nothing more than to use it as a life-changing tool for our nation's heroes. Together, we can make a huge difference.
We turn any vehicle that enters our donation program into a fund-generating instrument for our IRS-certified 501(c)3 nonprofit partners. We'll sell your donated automobile at an auction and transfer the proceeds to our charity partners. They will then use the funds to provide needy veterans and their families with financial assistance, free medical treatment, employment opportunities, family support, and other life-transforming benefits.
As a donor, you will have your own share of benefits, including a fast and painless donation process, free towing of your vehicle wherever you're located and at your own convenience, plus a hefty tax write-off!
If you want to learn more about our work, feel free to browse through our FAQs page. Should you have any concerns or inquiries, give us a call at our toll-free hotline 877-594-5822 or send us a message online. Our friendly donation specialists will be happy to assist you.
It's Time to Give Back to Our Nation's Heroes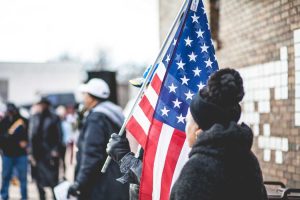 Our former servicemen and servicewomen risked their lives to keep us safe from dangers. Now, it's our turn to return the favor. Make a donation with us by calling 877-594-5822 or filling out our online donation form now!