November 8, 2018
Manatee Awareness Month: What You Can Do To Protect These Endangered Sea Creatures
As we're nearing the cold season, many animals have begun hibernating or migrating to warmer places. Among these species would be the manatees or sea cows. At this time of the year, these gentle seagrass-eaters would begin making their way into their winter habitats in Florida, as they couldn't survive in cold waters.
Unfortunately, the endangered manatees are getting fewer and fewer, with only about 6,600 of them left in the country. However, by spreading the word about the need to protect them, we can save these lovable aquatic creatures from being completely wiped out. It makes perfect sense to do this in November as it is Manatee Awareness Month.
Why Florida?
The Sunshine State is known to have the largest concentration of artesian springs in the world, with over 1,000 of them scattered all over the state. Manatees find refuge in these warm springs, making it their annual routine to travel to Florida when November approaches.
What Major Issues Do Manatees Usually Face?
While these harmless sea creatures have no predators, they encounter serious threats from us humans. Watercraft collisions are accounted as the leading cause of manatee deaths, with 30% of them attributed to boat hulls and propellers.
Another problem for these grazing sea animals would be habitat loss. Some of the natural springs they used to inhabit have been destroyed as a result of groundwater pumping for urban and residential development. Since they rely on warm coastal waters to survive, many manatees are left to suffer from cold stress, eventually leading to their death.
Lastly, there are people who harm these lovable creatures without realizing it. Some disturb and try to feed them while they're asleep. Others feed manatees with harmful foods. The biggest harm is caused by insensitive individuals who try to ride them for fun.
If people continue to be ignorant of the harm they inflict on manatees, the species could become extinct in the near future.
'What Can I Do to Help on Manatee Awareness Month?'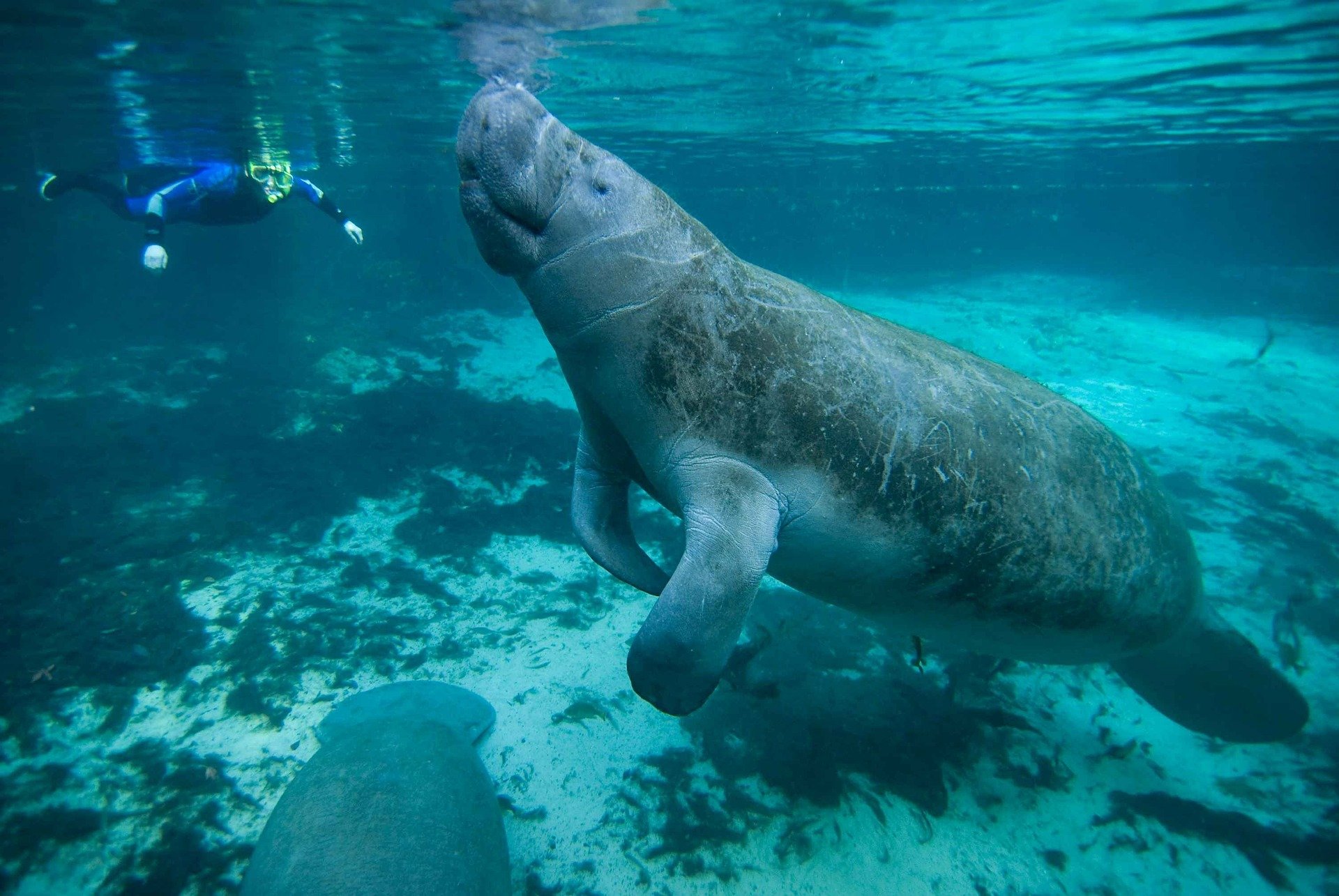 One step we can easily do that will help in protecting these aquatic creatures is by taking care of their habitats. A healthy marine environment means happier lives not just for manatees but for all other sea animals as well. Encourage your friends, family, and community to join you in caring for these gentle creatures.
If you happen to be a boater or a fisherman, be sure to follow these simple tips from the Defenders of Wildlife. The list includes all the do's and don'ts when you're visiting manatee waters.
You can actively take part in saving the manatees by donating monthly as a wildlife guardian or becoming an advocate for wildlife. You can also adopt a plush manatee from Oceana to support the ocean wildlife ecosystem.
Help Save Our Unfortunate Vets, Too!
If endangered sea animals like manatees are worth saving, how much more real people who should mean so much to us—people like our suffering veterans? On Manatee Awareness Month, why not reach out to those veterans living in your community who are now suffering from poverty, disabilities, physical and mental health issues, lack of jobs, and homelessness?
You can easily help ease their plight by donating a car or a truck or any other type of vehicle to us at Veteran Car Donations for their benefit. We will sell your donated vehicle through auction and use the proceeds to support the programs of our nonprofit partners that are meant to restore the dignity and uplift the lives of former members of our armed forces who are now facing hard times. These programs provide them with such benefits as mortgage-free and specially adapted housing, physical and mental health care, job opportunities, education scholarships, and more.
To thank you for taking part in our vehicle donation program, we will promptly process your donation papers and mail you your tax-deductible receipt once your vehicle is sold at auction. This way, you'll be able to receive the maximum tax write-off based on the selling price of your vehicle.
For more information on our vehicle donation program, check out our FAQs page. If you have questions, feel free to call our toll-free hotline 877-594-5822 or send us a message online.
You can donate to Veteran Car Donations by either filling out our online donation form or calling us directly. We accept vehicle donations wherever you are in the United States since we have car donation programs in all 50 states.
Your Donation Can Go a Long Way
Imagine how huge of an impact you can bring to the lives of those veterans living in your community with your donation of a vehicle that's already disposable to you. These struggling individuals together with their families will forever be grateful to you. Call us now at 877-594-5822, and get free professional towing service for your vehicle donation.