May 10, 2019
May 10th is Military Spouse Day
Military spouses deserve our recognition as much as their significant others for the significant contributions, support, and sacrifices they made for our nation. While their partners courageously perform their duty of keeping us safe and sound from external threats, these men and women make sure that their spouses come home to a warm and loving home once their mission is over. With their undying support and commitment for their husbands and wives in the Armed Forces, it's fair to say that military spouses are also heroes in their own special way.
Every Friday before Mother's Day (celebrated every second Sunday in May, which is May 12 this year), people in all parts of the country gather to celebrate Military Spouse Day. Also known as Military Spouse Appreciation Day, this annual event encourages the public to show appreciation to military spouses in their community. This year, the unofficial holiday takes place on May 10.
Normally, this occasion is celebrated with a ceremonial speech and proclamation by our President. Various programs are held in honor of these individuals.
A Brief History
Military Spouse Day was first observed on May 23, 1984, with President Ronald Reagan proclaiming the holiday. Seeing that military spouses played a key role in boosting the morale of service members, he decided to dedicate a special day for them. Consequently, the date was standardized by Secretary of Defense Casper Weinberger, who declared the Friday before Mother's Day as Military Spouse Day.
How You Can Celebrate the Occasion
If you know someone who is married to a military member, show your appreciation to them with a simple "thank you" note or gesture. You can invite them out for coffee or lunch, surprise them with a homemade dish, or offer to do their chores for them.
Posting online to show your support is another good way to celebrate the occasion. That way, you'll also encourage your friends, family, and acquaintances to do the same and express their gratitude to military spouses on social media platforms.
Donate a Clunker and Transform Lives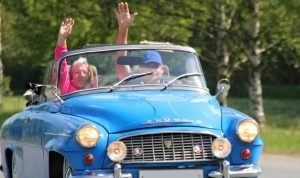 Do you have an old car that you've long wanted to get rid of? Still unsure if reselling it is a good idea? Here's what you can do instead: Hand it over to us at Veteran Car Donations.
Besides the fact that you no longer have to deal with the hassles and costs of reselling, donating your automobile will allow you to help the needy veterans and their families in your area. Once it enters our program, we'll turn your vehicle donation into a powerful fund-generating tool for our nonprofit organization partners that cater to struggling veterans.
Among the programs you'll help fund include those that provide deserving veterans with mortgage-free and specially adapted homes, free mental healthcare, employment opportunities, job training, transitioning assistance, tutoring support, education scholarships, financial assistance, life skills training, counseling, and many other benefits.
As our way of repaying you for your generosity, we'll handle all your paperwork, tow away your car for free, and promptly deliver to you your 100% tax-deductible sales receipt. That receipt will enable you to receive a top tax deduction in the next tax season.
For more information, feel free to visit our FAQs page. If you have questions, you can call us at 877-594-5822 or send us a message online.
You can donate to Veteran Car Donations by filling out our secure online donation form or calling us directly. We accept donations of nearly all types of vehicles wherever you are in the United States since we have car donation programs in all 50 states.
Show Our Vets and their Spouses that They're Not Forgotten
On May 10 – Military Spouse Day, show our needy veterans as well as their spouses that they are not forgotten. Call us at 877-594-5822 and show your gratitude to them with your car donation.