March 4, 2022
Turn Your Creative Ideas Into a Craft Business This March!
Are you an artist who's looking to broaden your horizons? Perhaps you feel like you're destined for a craft-for-profit future. Whether you have the knack for making ordinary things beautiful or making beautiful ordinary things, you can always use your unique talents to spark a new business venture. Since March is National Crafting Month, consider parlaying your creativity into a money-making craft.
If you're looking to create a new business around a hobby, be glad to know that it's never too late to go from being a hobbyist to a business professional.
In case you're looking to dabble in a craft other than your favorite, Veteran Car Donations shares these two ideas you wouldn't want to miss.
DIY Rainbow Cotton Mesh Tie-Dye Bag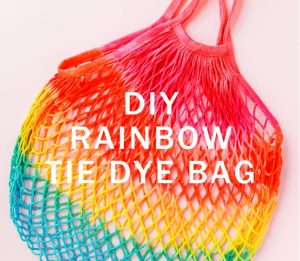 Use your favorite colors and craft this fabulous market bag. For this project, you'll need a cotton mesh bag, a pair of latex gloves, rubber bands, a tray, a cooling rack, a plastic bag, dye, and squeeze bottles.
Use the rubber bands to divide the cotton mesh bag into equal sections.
Run the mesh bag under cool water and remove excess water.
Mix the dye directly in the squeeze bottles according to the manufacturer's instructions.
Place the cooling rack on the tray and lay the bag on top of the rack.
Apply different colors to each section in the bag and let the excess colors drip through the cooling rack and onto the tray.
Once you're done applying color on one side of the bag, flip it over and repeat the process on the other side. Be sure to cover all white spots with color.
Grab a plastic bag and place the bag on it to prevent the dyed areas from touching one another.
Let the colors sit overnight before removing the rubber bands and rinsing the bag in cool water.
Once the water clears, your rainbow-colored cotton mesh tie-dye bag is ready.
DIY Monogrammed String Art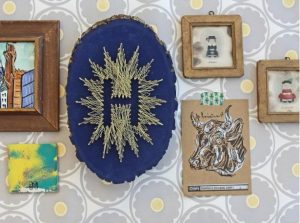 Although monogrammed string art goes way back to the 70s, it's making a huge comeback today. If you're looking to express your artistic side by making one yourself, you'll need a precut wood plaque, hammer, scissors, foam paintbrush, string, acrylic craft paint, small nails, tweezers, and a printout of a design template that fits onto the wooden plaque.
Grab a foam paintbrush and use it to apply a coat of acrylic paint to the wooden plaque.
Cut out your design template and attach it to the plaque. While you're at it, be sure to keep the template centered.
Hammer the small nails into alternating points of your paper template. When you're adding pins all around the outer edges of your design, be sure to keep them about half an inch apart from each other.
Remove the paper template with household tweezers. Avoid leaving tiny scraps of paper that are caught between the nails.
Start tying string in a double knot to the point of one nail and keep it taught while you're wrapping it around the other nails. Avoid crossing over negative spaces within the design.
Once your string has covered enough space and your monogram is clearly defined, pick an endpoint on the outside of your project and tie a tight knot around a nail. Keep it tied tight. The last thing you want is for your project to come unraveled.
Apply a picture-hanging kit or some adhesive strips to the back of your wood plaque and hang it on your wall.
You Can Turn Your Unwanted Car into a Tool for Transforming Lives
While turning your hobby into a side hustle is a good thing, what's even better is to turn your unwanted vehicle into a powerful tool that can transform the lives of the suffering veterans in your community.
You can do that when you donate that vehicle to us at Veteran Car Donations.
We'll sell it through an auction, with the proceeds handed over to our IRS-approved 501(c)(3) charity partners. These reputable veteran nonprofits are dedicated to helping veterans who are suffering from homelessness, chronic unemployment, disabilities, and illnesses, including mental health conditions.
They use the funding we give to provide deserving veterans with free quality health care, psychotherapy services, financial aid, family support, housing assistance, educational scholarships, employment opportunities, and many other benefits.
As a donor, you'll have the privilege of enjoying a fast and free towing service, which we offer our donors anywhere in the United States. Plus, you'll be entitled to the highest possible tax deduction in the next tax season.
Best of all, you'll have the most satisfying donating experience, knowing that you're giving back to the brave men and women who risked their lives to protect ours and ensure our nation's security.
Since we accept nearly all types of vehicle donations, we'll gladly take your car, truck, van, RV, or boat regardless of its age or condition.
To learn more about our vehicle donation program, including our quick and easy donation process, feel free to visit our FAQs page. For inquiries or concerns, reach out to us anytime through our toll-free hotline at 877-594-5822 or write to us here.
Make a Difference in the Lives of Our Heroes Today!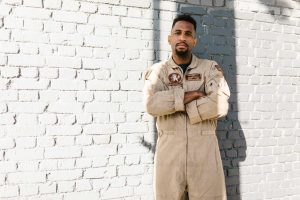 Making a charitable contribution while disposing of an old and unwanted vehicle has never been so easy. If you're ready to make a difference in the lives of our heroes, call Veteran Car Donations at 877-594-5822 or fill out our secure online donation form now!