July 2, 2021
Know the Basics of Hosting a Hot Dog Party This July!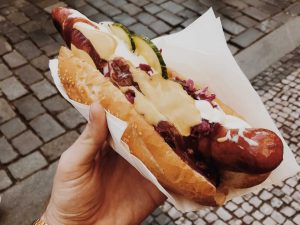 July's here once again, which means hot dogs, hot dogs, and more hot dogs! That's right — it's National Hot Dog Month!
When we hear summertime food, many of us immediately think of hot dogs. Spending the day at the park or a soccer field is always best paired with a hot dog and a cool refreshment of your choice. Plus, you definitely can't go wrong with a hot dog backyard party!
But what if you're vegan? Can you still enjoy this month-long celebration? Of course, you can! You can chow on tofu dogs!
America's classic favorite food can be eaten any time of the year. However, something's extra special when you're savoring it on National Hot Dog Month. You might even want to use the event as an opportunity to try all the hot dog stations in your city or maybe make your own hot dog recipe.
Hot Dog Etiquette 101
If you're hosting a hot dog party at your place, you might be surprised to know that there's a guide to hot dog etiquette, thanks to the National Hot Dog & Sausage Council, the body that created the hot dog etiquette guide.
Don't think for a second that the guide is exclusive for hardcore hot dog fans. It's for anyone who can read and take note of it.
Applying the rules listed below is the first step to a successful gathering, and the rest will follow. Before you know it, your party will be the talk of the town! With that in mind, Veteran Car Donations presents the basics of hosting a hot dog party:
Eat hot dogs on buns with your hands. Using a fork and knife is unacceptable.
Use paper plates to serve hot dogs. Placing them on dinnerware is a no-no.
Dress the "dog," not the bun. Always put hot dog toppings between the bun and the hot dog.
Apply condiments in the following order: wet condiments like chili and mustard, chunky condiments like relish, onions, and sauerkraut, then shredded cheese, and finally, spices such as pepper or celery salt.
Don't take more than five bites to finish your hot dog. However, if you're eating a foot-long wiener, you can take seven bites.
Never leave bits of the bun on your dish. You must eat EVERYTHING.
Lick the remaining condiments on your fingers. Only wash your hands after licking them clean.
Choose the right beverages. Soda, lemonade, iced tea, and beer are preferable. Wine, not so much.
Wipe your mouth with paper. Using a cloth napkin is never a good idea.
Celebrate National Hot Dog Month with Veteran Car Donations!
While hosting a hot dog party this July in celebration of National Hot Dog Month, you might want to invite the veterans and their families residing in your community.
Many of our veterans are living miserable lives. These are our heroes who can't find decent jobs to support themselves and their families. They are those who are homeless and living on the streets as beggars. They are those who are suffering from service-connected disabilities and those who are ill, including those who are afflicted with PTSD and other mental illnesses.
The good news is that you can do something to help turn their lives around. All you have to do is donate any old and unwanted vehicle you have to us here at Veteran Car Donations.
We'll have your donation auctioned off, with the proceeds going to reputable veteran nonprofit organizations that we are in partnership with. These IRS-approved 501(c)(3) nonprofits use the money to provide struggling veterans and their families with free quality health care, financial aid, housing assistance, employment opportunities, family support, educational scholarships, psychotherapy services, and many other benefits.
You will also benefit from your charitable contribution since you'll get to enjoy our free towing service wherever your vehicle is located in the country.
Furthermore, you'll get to enjoy our quick and convenient donation process where you don't have to do any paperwork. On top of that, you'll have the privilege of receiving the maximum tax deduction in the next tax season.
However, those material perks may pale in comparison to the greatest reward you'll get when you donate a vehicle to us: the priceless feeling of joy and satisfaction for doing something that can help transform the lives of the suffering heroes in your community.
If you have any questions or concerns, feel free to call us at our toll-free hotline 877-594-5822 or you may send us a message here. Check out our FAQs page for more information on our donation program.
Know What It's Like to Be a Hero Today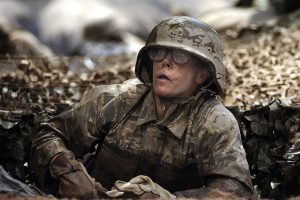 A simple vehicle donation can transform the lives of our nation's hurting heroes. You have no idea how much it will mean to them and their families. Donate to Veteran Car Donations by calling 877-594-5822 or filling out our online donation form now!