March 4, 2019
The National Hug a G.I. Day
Sometimes, all it takes to make anyone smile is a warm embrace. One hug alone can bring so much comfort and reassurance, even if it comes from a total stranger. Imagine how our service members, former or active-duty, would feel if they'd receive several hugs of appreciation in a single day!
Taking place every 4th of March, National Hug a G.I. Day is a time to show our support and appreciation to the men and women who have courageously fought for our nation. It's the perfect opportunity to let them know how grateful we are for their service and commitment to protect our freedom and our nation's security—our very lives!
If you happen to know a G.I., make sure you give them the biggest hug you could ever give! Don't have a particular member in mind? Send out a virtual hug to all our G.I.s by posting on social media and reminding everyone to do the same!
A Brief History
The idea behind this special day was started by Adrienne Sioux Koopersmith in 1996. Seeing that March 4th was the only date in the calendar that sounds like a military command (march forth), she decided to use it as a day to honor all individuals who have served or are still serving in our nation's armed forces.
Incidentally, Koopersmith is a Chicago resident who calls herself "America's Premier Eventologist," having created more than 1,900 holidays, including National Hug a G.I. Day.
What G.I. Actually Stands For
Ever wondered what the initials "G.I." really mean? Ever since the term first emerged sometime before World War I, many soldiers assumed that the letters stood for "General Issue" or "Government Issue," an implication that they were just mere products for the country.
G.I. is actually short for galvanized iron, which was used by the logistics services of the U.S. Armed Forces. By the time World War I erupted, it was used to refer to German artillery shells, which were made of galvanized iron.
The name gained nationwide popularity in the 1940s, the same period when every boy's favorite action-figure toy was born. Thanks to David Breger, a former army sergeant, G.I. Joe was introduced to the world, with the comic series making its first appearance in Yank magazine on June 17, 1942.
Two years later, the name was officially added into our language, with President Franklin D. Roosevelt signing the bill now known as G.I. Bill: Servicemen's Readjustment Act.
Another Gesture to Make Our Service Members Happy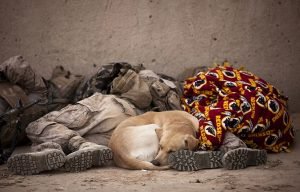 If you think a hug isn't enough to show your gratitude to our heroes, consider donating your old and unwanted car for their benefit as well! By handing over that vehicle to Veteran Car Donations, you'll be making it much easier for many veterans in your community to reintegrate into society, giving them the chance to improve their living conditions.
We will auction off your donated vehicle and use the proceeds to support the programs of our charity partners that cater to active-duty and former members of our military. These IRS-approved 501(c)(3) nonprofit organizations provide homeless veterans and those with service-connected disabilities with mortgage-free and specially adapted homes. Those suffering from Post-Traumatic Stress Disorder and other mental issues are provided with free mental health care while those seeking jobs are given employment opportunities and job training. Other underprivileged veterans get to receive transitioning assistance, tutoring support, education scholarships, financial assistance, and many other benefits.
In return for your vehicle donation, we'll send you a 100% tax-deductible receipt that will entitle you to claim the maximum tax deduction based on the selling price of your donated vehicle at auction or its fair market value. This can significantly lower your tax bill when you file your itemized federal income tax return in the next tax-filing season.
Your vehicle doesn't even need to be in a good shape when you give it to us. As long as it's still capable of attracting a buyer, we'll be more than glad to accept it.
For more information on our car donation program, check out our FAQs page. For inquiries, you can call our toll-free 24/7 hotline 877-594-5822 or send us a message online.
You can donate to Veteran Car Donations by either calling us or filling out our secure online donation form. We accept donations of nearly all types of vehicles wherever you are in the United States since we have car donation programs in all 50 states.
Show Your Gratitude with Your Car Donation!
On March 4—National Hug a G.I. Day, do something that will make a huge difference in the lives of our nation's struggling heroes. Call us at 877-594-5822 and show your gratitude for their invaluable service to the nation with your car donation!