January 25, 2019
National Slavery and Human Trafficking Prevention Month: Join the Fight for Freedom This January
This January, the United States observes National Slavery and Human Trafficking Prevention Month, an annual event to remind Americans of the need to combat this blatant form of injustice that deprives its victims of their basic rights and freedoms.
The month-long observance was declared by President Obama in December 2016. It serves as an occasion for all concerned to encourage their fellow Americans to educate themselves about human trafficking and to take action to eradicate this modern-day slavery.
Human trafficking has been around since ancient times, and the fight to stop it is far from over. The problem is a complex issue that people often misunderstand; hence, the need to raise public awareness about it.
Human trafficking is the exploitation of people through force, fraud, or coercion. It victimizes people of any age, race, gender, or nationality. It happens everywhere, including here in the United States.
At present, authorities say human trafficking has victimized approximately 25 million people. This sordid transnational crime has become difficult to stop since this it is being operated by big-time criminal syndicates.
Stop Slavery Dead on Its Tracks
Recognizing the signs of slavery can be difficult since most of the time such signs are hidden from plain view. If we're not careful and observant, we could easily miss those signs. Veteran Car Donations is here to help you spot these red flags even if they're as subtle as they can be:
Physical signs
You can tell that a person is held against their will through their physical state. Most of the time, a victim of slavery may appear uneasy, unkempt, malnourished, and may have untreated injuries. Watch out for signs of physical and sexual abuse such as unexplained bruises, scrapes, and cuts or behavioral changes such as fear of socializing with people, promiscuity or use of sexual language.
Lack of control
Lack of control is another common sign of slavery. Victims aren't allowed to speak for themselves, and they are usually reluctant to make eye contact with people they meet on the streets. Most of the time, there's another person who does all the talking for them. In addition, victims of human trafficking and slavery are not in possession of their passports and other documents.
Inconsistent stories
Victims of human trafficking and slavery may have a hard time talking about their lives or are unable to get their stories straight. Some don't even know where they are and what time it is at the moment.
Isolation
Most human trafficking victims are isolated from other people and made to work in remote locations thousands of miles away from the city. For instance, a Chinese laborer may be forced to work as a housekeeper and forbidden to leave the house to avoid contact with the people outside.
Working without getting paid
Working without pay is a clear sign of slavery and forced labor. Sometimes, "employers" intentionally withhold the wages of their workers to keep them from leaving and finding other jobs. There are also times when people are made to work to pay a debt with no proper payment terms, with the "lender" free to change the terms at their own discretion.
If you think you have encountered someone who is a victim of slavery and human trafficking, don't hesitate to contact the authorities right away. It's important that you do not confront the victim right away as it might cause them more harm than good.
Join the Fight Against Slavery and Human Trafficking!
Veteran Car Donations joins human rights organizations in supporting the fight against slavery and human trafficking. We want nothing more than for the oppressed and underprivileged victims to obtain justice and freedom and for the perpetrators of the crime to be punished.
Another Battle for Freedom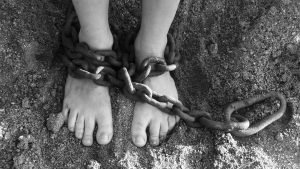 Our military veterans have received words of praise and gratitude countless times for their invaluable service to our nation. Although these are meaningful gestures, paying just lip service for what they've done does not address their pressing needs: job training and work placement, transition assistance, mortgage-free housing, educational scholarships, career opportunities, and free mental health care among others.
It seems as though our heroes' fight for freedom and security continues even after they retired or get discharged from the service following their return home. Only this time, they're fighting for the freedom to live a productive, healthy, and decent life after serving their country.
You can help them win in their latest struggle by doing something that's not only easy to do but will also be advantageous for you: Donate a vehicle you no longer need or want to us at Veteran Car Donations.
Once you inform us of your decision to make a car donation to us, we'll promptly tow your vehicle at absolutely zero cost to you and then auction it off. After your vehicle gets sold, we'll send you by mail your 100% tax-deductible sales receipt. This serves as your ticket for claiming your tax deduction when you file your itemized federal income tax return.
For more information on our car donation program, check out our FAQs page. For inquiries, you can call our toll-free 24/7 hotline 877-594-5822 or send us a message online.
You can donate to Veteran Car Donations by either calling us or filling out our secure online donation form. We accept donations of nearly all types of vehicles wherever you are in the United States since we have car donation programs in all 50 states.
Uplift Lives of Our Struggling Heroes Today!
This National Slavery and Human Trafficking Month, help us uplift the lives and restore the dignity of our suffering heroes. Call us at 877-594-5822 and make a difference in their lives with your vehicle donation!