November 7, 2021
Get That Much-Needed Break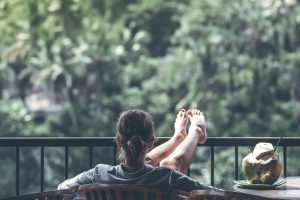 National Stress Awareness Day on November 7th reminds us to take a break from the pressures of life and re-evaluate ourselves. It's the best time to ask yourself: "How stressed have I been lately? Is it already affecting my day-to-day living?"
Stress is a normal part of our lives. As much as we want to live a contented and peaceful life, we can't avoid distressing situations. That's just the way it is.
When left unchecked, stress can result in emotional, mental, and even physical problems — from nausea and headaches to serious conditions like heart disease and stroke. That's why it's important to address stress and know how to manage it effectively.
Stress-Busting Tips for a More Productive and Fulfilling Life
There's no permanent remedy for stress. No matter what we do, we'll always encounter stress as we go through our lives each day.
The good news is that there are many things we can do to distract ourselves that will help ease our anxiety. Here are six sure-fire ways to de-stress whenever you're feeling stressed:
Sweat it out!
Who says working out is just for the body? Apart from keeping us fit and toned, exercise releases our happy hormones. No wonder you'd find yourself feeling lighter, physically and mentally, after a great sweat session.
Laugh out loud!
Laughter is the best medicine, so they say. Do we agree? Absolutely.
How about spending National Stress Awareness Day watching a comedy film or two? Or perhaps, you can watch a show at a local comedy bar. Better yet, make everyone around you laugh by cracking some of your best one-liners.
Head to the mountains!
Plan a fantastic day hiking in the mountains and marveling at the beautiful views of nature. Free your mind from unwanted thoughts by breathing in the fresh air, listening to the sounds of birds chirping, and focusing your sights on everything nature has to offer.
Get a spa!
If you've been putting off your spa trip because of your busy schedule, there's no reason to miss it now. Since it's National Stress Awareness Day, you might as well celebrate by getting your body pampered to loosen it up. You might want to try a couple of treatments you haven't tried before like maybe aromatherapy, acupressure, or a mud bath.
Meditate.
Meditation has always been effective when it comes to relaxing one's mind. If you've noticed, people who self-reflect are usually at peace with themselves. You'll only need a quiet and cozy place, a calming view, and a goal to detoxify your mind from negative thoughts.
Learn not to worry too much.
Are you the type of person who gets anxious easily over the littlest of things? Here's some advice you'll forever cherish: Don't take life too seriously. Worrying too much will only make the situation worse, and you might even drive yourself crazy in the long run. Lighten up!
You Can Also Fight Stress by Helping Others
Supporting needy veterans may help eliminate your stress and allow you to experience an immense feeling of happiness. You can do that by donating any vehicle you no longer need to us here at Veteran Car Donations.
We'll have your vehicle auctioned off, with the proceeds distributed to reputable veteran nonprofit organizations that are in partnership with us. These IRS-certified 501(c)(3) nonprofits use the money to provide needy veterans and their families with free quality health care, financial aid, housing assistance, employment opportunities, family support, educational scholarships, psychotherapy services, and many other benefits.
You, too, will benefit from your charitable contribution. You'll get to enjoy our free professional pickup and towing service and our quick and convenient donation process where you don't have to do any paperwork.
On top of that, your gift will entitle you to receive the maximum tax deduction in the next tax season.
Aside from the material rewards in store for you as our donor, you'll also be privileged to enjoy a most satisfying donating experience, knowing that your act of charity will help transform the lives of our nation's heroes.
We accept almost all types of vehicles regardless of their age or condition. You don't need to have your car fixed if it has dents or scratches. We'll take it as it is.
You can also make your donation wherever you are in the country since we have vehicle donation programs in all 50 states plus the District of Columbia.
Want to learn more about our vehicle donation program? Go visit our FAQs page. If you have any questions for us, call us at 877-594-5822. You may also send us a message here.
Transform Lives on National Stress Awareness Day
Are you ready to donate your old car for the benefit of the struggling veterans in your area? Hand it over to us today! Call Veteran Car Donations at 877-594-5822 or fill out our online donation form now!