January 25, 2019
Soldiers' Angels' Wounded Support Programs: Bringing Smiles Amidst the Pain
The intense combat that our brave soldiers experienced on the battlefield at times brings them great misfortunes such as getting killed, severely injured or becoming ill.
Aside from concerned units of the United States Armed Forces, there are civilian volunteers who provide vital assistance to our wounded troops. Some of these volunteers belong to Soldiers' Angels, a highly rated military and veteran nonprofit organization, which we at Veteran Car Donations are proud to have as one of our partners.
Soldiers' Angels has several programs that provide aid and comfort to our troops in the Army, Marines, Navy, Air Force, Coast Guard, our veterans, along with their families. Thousands of volunteers simply known as "Soldiers' Angels" are right there providing support to wounded, ill, and injured soldiers deployed overseas. These volunteers are members of the Soldiers' Angels' Wounded Support Programs.
Motivated by the charity's slogan "May No Soldier Go Unloved," these Soldiers Angels work tirelessly to support our nation's wounded warriors, deployed troops, veterans, and their families. These volunteers are part of two unique Soldiers' Angels Wounded Support Programs. The bigger one of these two is managed through the charity's office in Landstuhl, Germany. The other program is the charity's Valor-IT program. Here is how the two programs work:
Soldiers' Angels Landstuhl, Germany
Soldiers' Angels Landstuhl, Germany is made up of a group of volunteers, both civilian and military, who are based in Germany. The main objective of the team is to provide assistance to wounded soldiers being treated at the regional medical center in Landstuhl Germany.
These soldiers are usually extracted through a medevac helicopter to a combat support hospital of the United States Army. Patients suffering from severe injuries that require more extensive treatment are transported to military treatment facilities, the biggest of which is in Landstuhl, Germany.
The Soldiers' Angels Landstuhl, Germany station acts immediately by providing blankets, personal care and clothing items, and calling cards. Soldiers' Angels volunteers also get in touch with the families of wounded soldiers and offer support to the medical personnel who are in charge of giving treatment to them. There are times when Angel volunteers simply sit by the bedside of wounded soldiers and listen to their stories, giving them their caring presence.
These volunteers help our soldiers recover, particularly those staying in the outpatient barracks while undergoing treatment and assessment for less severe injuries or illnesses. The volunteers stay with the soldiers until they are sent to medical facilities in the United States or back to the combat zone.
As part of its support programs, Soldiers' Angels Landstuhl, Germany provides our troops with handmade blankets as well as other personal items.
In 2010, the team had more than 300 on-site volunteer days as well as 1,500 off-site volunteer hours and contributed $300,000 worth of donations.
Valor-IT
Valor-IT helps our veterans by providing voice-controlled/adaptive laptop computers as well as other essential devices to support veterans who are recovering from severe hand injuries. The Valor-IT program operates through the Veteran Affairs Medical Center support programs.
Some of the items provided by Valor-IT include:
Voice-controlled laptops that function through the use of adaptive technologies or a microphone
Personal GPS and iPads that help build independence and confidence among our wounded soldiers, particularly those with severe post-traumatic stress disorder and traumatic brain injury.
Extend a Helping Hand with Your Vehicle Donation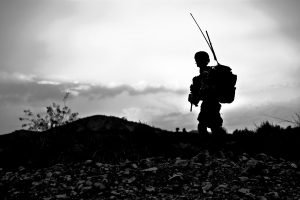 Wouldn't it be great to contribute to our worthy cause that offers much-needed assistance to our wounded troops deployed overseas? If you wish to contribute, Veteran Car Donations accepts old cars, trucks, vans, and other types of vehicles for donation. We auction off all the donated vehicles we receive and use the proceeds to support the programs and services being rendered by our charity partners, including Soldiers' Angels.
We assure you that the funds generated from the auction sale of your donated vehicles will be used to help our wounded soldiers through Soldiers' Angels Wounded Support Programs. The funds will also be used by our charity partners to provide the following services:
Mentoring and job training programs for veterans
Mortgage-free and specially adapted homes for severely handicapped veterans and mortgage-free homes for homeless veterans and their families
Transitioning assistance
Tutoring support and education scholarships
Grief counseling for veterans and families of troops who lost their lives on the line of duty
Support for spouses and families of our nation's fallen heroes
Assistance to veterans and their families in accessing the full range of benefits available to them
While your vehicle donation will directly impact the lives of our veterans and active-duty troops, you will also personally benefit since your charitable contribution will entitle you to a top tax deduction after your vehicle is sold at auction.
For more information on our car donation program, check out our FAQs page. For inquiries, you can call our toll-free 24/7 hotline 877-594-5822 or send us a message online.
You can donate to Veteran Car Donations by either calling us or filling out our secure online donation form. We accept vehicle donations wherever you are in the United States since we have car donation programs in all 50 states.
Help Our Soldiers' Angels Soar to Greater Heights
The hardworking men and women behind Soldiers' Angels Wounded Support Programs would get a much-needed boost with your assistance. Call us at 877-594-5822 and help our Soldiers' Angels soar to greater heights with your car donations!