February 3, 2019
How to Make February 3—Super Bowl an Unforgettable Event
This year, millions of football fans all over the country will gather around to witness the biggest football event of 2019—Super Bowl LIII on February 3. This is unlike any ordinary day in the United States. In fact, it has been made an unofficial national holiday. Almost every red-blooded American looks forward to this event.
Super Bowl is the championship game of the National Football League (NFL). What makes it different from other sports events is that the Super Bowl is a winner-take-all kind of game where the champion is determined in a single contest. Every year, the event draws about a hundred million viewers and is broadcast in over a hundred countries worldwide.
This year's Super Bowl pits the Los Angeles Rams against the New England Patriots. They will face off at Mercedes-Benz Stadium in Atlanta on February 3. Kickoff time is 6:30 p.m. ET.
What to Do on February 3—Super Bowl
Whether you're a football fan or not, Super Bowl is simply a great event to witness. The highlight of every event is the halftime show of well-known performers. This year, Maroon 5 is the featured artist. The group will be joined by rappers Travis Scott and Big Boi.
Here is a list of things you can do on or before February 3—Super Bowl:
Host a Super Bowl party.
If you can't be physically present to watch the live Super Bowl in Atlanta, hosting a Super Bowl-themed party is definitely a good idea. While you're having a party, try to mix in a few exciting activities such as custom-made games that are related to the Super Bowl.
Watch the game with other fans at a pub.
Tickets to the Super Bowl can be ridiculously expensive. If you don't want to spend your entire year's savings on a ticket, then going to a pub with your best pals and watching the game with other football fans isn't a bad idea at all. When you think about it, you'll experience nearly the same excitement you'll get when you're watching at the stadium without spending so much money.
Wing it and buy tickets to the Super Bowl
If you really want to experience what it feels like to watch the Super Bowl from the stadium, then do it! Be warned though, as we mentioned earlier, that Super Bowl tickets can be quite expensive. They usually cost around $5,000 to $17,000.
If it's your first Super Bowl experience ever, then doing one of the suggestions listed above could be a memorable Super Bowl celebration experience for you.
Celebrate Super Bowl with our Nation's Heroes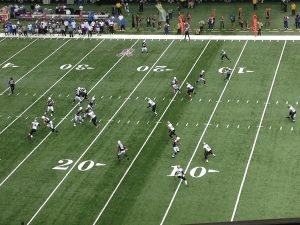 While we're busy celebrating one of America's biggest events, let's not forget to lend a hand to the largely forgotten and disadvantaged heroes of our country—our veterans. Together with our IRS-certified nonprofit partners, Veteran Car Donations will gladly accept any type of vehicle that you can donate.
The proceeds from the sale of each donated vehicle will be used by our charity partners in funding their critical programs that will directly benefit our former military servicemen and women who are facing difficulties in transitioning to civilian life. Depending on their needs, qualified beneficiaries are provided with mortgage-free homes, specially adapted and mortgage-free homes, free mental health care, employment opportunities, job training, transitioning assistance, tutoring support and education scholarships, financial assistance, and many other benefits.
You will also benefit from your charitable contribution since the 100% tax-deductible sales receipt you'll get from us after your vehicle gets sold at auction can significantly lower your tax bill. You can claim the indicated amount in the receipt as your tax deduction when you file your itemized federal income tax return.
For more information on our car donation program, check out our FAQs page. If you have questions, you can call our toll-free 24/7 hotline 877-594-5822 or send us a message online.
You can donate to Veteran Car Donations by either calling us or filling out our secure online donation form. We accept donations of nearly all types of vehicles wherever you are in the United States since we have car donation programs in all 50 states.
Make February 3—Super Bowl Unforgettable with Your Car Donation
Let's make February 3—Super Bowl unforgettable to us and our needy veterans. Call us at 877-594-5822 and make positive changes in the lives of our heroes with your car donation!