November 8, 2019
The Basics: The U.S. Marine Corps, the Country's Expeditionary Force in Readiness
The United States Marine Corps is called to defend every American at home and overseas. The Marines are highly trained to improvise, adapt, and overcome all obstacles in any situation where their service is needed—whether on land, air, or sea. The Marine Corps sends its forces to both ground operations and naval ships as needed.
Being the country's expeditionary force in readiness, the Marines are the ones that are forward deployed to aggressively and swiftly win our nation's battles in moments of crisis. It doesn't matter if the battle involves traditional warfare or humanitarian and disaster relief operations. The Marines are known for their willingness to fiercely engage the enemy in battle and their determination to fight until victory is seized.
The Marine Corps' History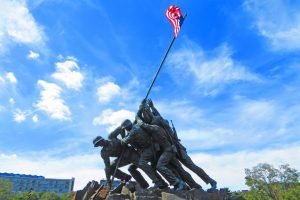 The United States Marine Corps was formerly known as the Continental Marines. It was formed by the Continental Congress on November 10, 1775, to serve as onboard security forces, protecting the captains and other officers of naval ships. Marine sharpshooters were posted in the fighting tops of their ships' masts, targeting forces aboard enemy ships during ship-to-ship fighting. The Marines also provided assistance in landing forces and discipline enforcement.
The Continental Marines made their first amphibious assault landing in the Revolutionary War on March 3, 1776, seizing a British ammunition depot and naval port in New Providence, the Bahamas.
The Continental Marines along with the Continental Navy were disbanded in 1783 at the end of the war. The force was revived on July 11, 1798, when Congress created the United States Marine Corps in preparation for the quasi-war with France.
Since then, the Marines have always been present in almost every battle, including the First Barbary War in 1801 to 1805 and the Mexican-American War from 1846 to 1848. They were assigned on blockade duty and engaged the enemy in naval battles before they experienced a period of decline in terms of strength and introspection about their overall mission and vision.
Nevertheless, the Marines continued to participate in foreign expeditions. By the time World War I started in 1917, they were already seasoned for battle and their customs and traditions had already taken shape. In both World War I and World War II, they played key roles and experienced peak growth and expansion—from two brigades to two corps with six divisions as well as five air wings with 132 squadrons. Furthermore, their valor was immortalized by the famous photo of Marines raising the American flag on Mount Suribachi during the battle for Iwo Jima in March 1945.
The Marines also played important roles during the Korean War from 1950 to 1953 when they held the line at the Battle of Pusan Perimeter, and during the Vietnam War where they fought a constant guerilla war and an on-and-off conventional war against the Viet Cong and the North Vietnamese Army. The Marines were also responsible for Kuwait's liberation during the Gulf War from 1990 to 1991. They displayed their great strength during Operation Desert Storm, which was their largest military operation.
Their practice of amphibious warfare during World War II catapulted the Marine Corps into prominence until they became one of its dominant practitioners by the early 20th century. The Marines continue to be an indispensable tool for U.S. foreign policy with their expeditionary doctrine as well as innovations that set global standards in military operations.
How to Join the U.S. Marine Corps
If you believe that you've got what it takes to become a part of the U.S. Marine Corps, you have to meet certain standards. Veteran Car Donations shares a list of the initial requirements that you'll need to keep in mind.
Must be 17 years old or older at the time of enlistment
Must not be 29 years old upon the commencement of recruit training
Must have proof of legal residency
Must present a high school diploma
Must pass the standard physical examination
Must be a graduate of recruit training at Marine Corps Recruit Depot San Diego or Marine Corps Recruit Depot Parris Island
Donate a Vehicle Today!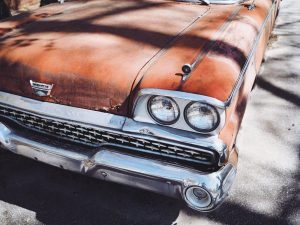 You don't have to get stuck with that rusty piece of junk that's been sitting in your garage for ages. If you want to get your hands off it without the hassle and cost of reselling it yourself, consider donating it to Veteran Car Donations today. Your vehicle donation will help our IRS-certified 501(c)3 nonprofit partners in providing life-changing services to deserving veterans in various communities throughout the country.
We will auction off your donated vehicle and use the proceeds to support our charity partners in providing our nation's heroes with free mental health care, educational scholarships, employment services, mortgage-free and specially adapted housing, general transitioning assistance, and other benefits.
As a reward for your charitable contribution, we'll pick up and haul away your vehicle for free and mail to you your 100% tax-deductible sales receipt following the auction sale of your vehicle. This receipt will enable to receive a top tax deduction in the next tax season.
If you're planning to donate your vehicle today, simply fill out our online donation form or dial 877-594-5822. We accept donations of nearly all types of vehicles regardless of their age, mileage, and condition, which means you can hand over even a vehicle that is no longer in good shape. You can also make your donation wherever you are in the United States since we have vehicle donation programs in all 50 states.
You may also send us a message online or check out our FAQs page if you need more information about our car donation program.
Extend a Helping Hand to Our Heroes with Your Car Donation
Extend a helping hand to the needy veterans and their families in your community today. Give back to our nation's heroes by calling us at 877-594-5822 to make your car donation.