November 14, 2019
The Basics: The U.S. Navy, the World's Most Lethal Naval Force
The United States Navy is known worldwide as the most lethal force on the high seas. It is responsible for training, equipping, and maintaining combat-ready naval forces that are capable of deterring aggression, winning wars, and maintaining the freedom of the seas. They are experts in operating any type of military equipment in our country's arsenal—from Humvees to aircraft carriers.
The Basics: The Navy's History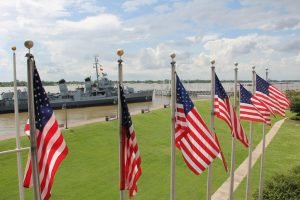 The rich and storied history of our country's navy dates back to the Revolutionary War in 1775 when it was called the Continental Navy. It was temporarily disbanded for a short time after the war.
In 1787, the U.S. Constitution established the legal basis for a seaborne force of military ships and personnel. This power was further expanded when Congress passed the Naval Act of 1794, which led to the creation and equipping of several Navy frigate vessels. Some members of the Continental Congress had actually opposed the Navy's creation because they feared that it would be unwise to challenge the British Royal Navy.
However, Congress' reluctance disappeared when General George Washington's forces managed to seize three British Royal Navy vessels. The Congress' decision to add a few more vessels made the U.S. Navy an official military entity on October 13, 1775. Although U.S. Navy forces didn't witness much action during WWI, they fought valiantly during WWII and every major armed conflict since then.
How to Join the U.S. Navy
The men and women who comprise the U.S. Navy have water and salt flowing through their veins. They are constantly propelled by the sea to victory or to the rescue of beleaguered fellow sailors, other troops, and civilians as well.
If you're interested in joining the Navy, Veteran Car Donations shares the following requirements that you'll have to meet:
You must be a citizen of the United States or a naturalized citizen.
You must be between 17 to 34 years of age. Parental consent is needed for those who are younger than 17 years old.
A high school diploma is required with very rare exceptions.
You must take the Armed Services Vocational Aptitude Battery (ASVAB) test and pass it.
You must be able to pass a Military Entrance Processing Station medical exam.
Women are not allowed to serve aboard submarines or in the Navy Sea, Air, and Land Teams, commonly known as Navy SEALs, which are the U.S. Navy's primary special operations force. However, they can enlist in all other occupational fields in the U.S. Navy.
Help Our Struggling Heroes with Your Car Donation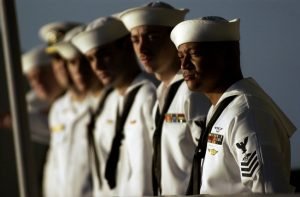 Like their counterparts from other U.S. military branches, some U.S. Navy veterans are in dire need of assistance in their transition to civilian life. While the government has been providing benefits to many of these veterans, many more need to be served. These are our nation's heroes who did their part in preserving peace and the freedoms we hold sacred. That's why it is only proper for us to come to their aid.
You can show your gratitude and appreciation for the invaluable service rendered by our veterans by taking part in our vehicle donation program. By donating any type of vehicle you no longer need to Veteran Car Donations, you will be supporting the critical life-changing programs that are being delivered by our IRS-certified 501(c)3 nonprofit partners.
Thanks to your donation, those struggling veterans together with their families will benefit from programs that provide free mental health care and psychological support, mortgage-free and specially adapted housing, general transitioning assistance, and various education and employment services.
Our donors never leave empty-handed. In exchange for your generosity, you'll receive free professional towing services and a 100% tax-deductible sales receipt that will enable you to claim a top tax deduction in the next tax season. Moreover, we guarantee your satisfaction in our quick and convenient donation process where you don't have to do any paperwork.
For more information on our car donation program, check out our FAQs page. For inquiries, you can call our toll-free 24/7 hotline 877-594-5822 or send us a message online.
You can donate to Veteran Car Donations by either calling us or filling out our secure online donation form. We accept donations of nearly all types of vehicles wherever you are in the United States since we have car donation programs in all 50 states.
Ready to Transform Lives?
Are you ready to touch the lives of our nation's heroes in the most impactful way? Call us at 877-594-5822 and donate a vehicle for the benefit of our veterans in the U.S. Navy and other branches of our military!