June 6, 2022
These Tanks Helped Liberate Europe from Nazi Rule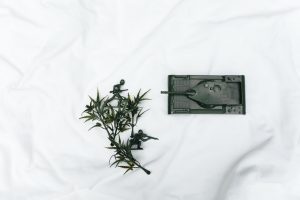 June 6th, 1944, popularly known as D-Day, marked a critical turning point in World War II. General Dwight Eisenhower, the Supreme Allied Commander of the Allied Expeditionary Force, successfully launched the largest ever amphibious attack in military history, signaling the beginning of the end of Nazi rule in Western Europe. Nicknamed Operation Overlord, the attack involved more than 156,000 troops from Canada, Great Britain, Australia, Belgium, Denmark, France, and other Allied countries. On that fateful day, the Allied troops landed by sea and air on five beachheads in Normandy, France, to liberate Europe from Nazi rule.
A Closer Look at the Unique Tanks Used on D-Day
A significant part of Operation Overlord's success was attributed to the fleet of specialized military tanks deployed alongside Allied troops. Major General Sir Percy Hobart, a visionary British military commander, thought of using uniquely armed and armored combat vehicles to crush Nazi forces. He designed bizarre-looking tanks that the Allied armies would use to storm the beaches of Normandy. Here are those tanks:
Duplex Drive (DD) Sherman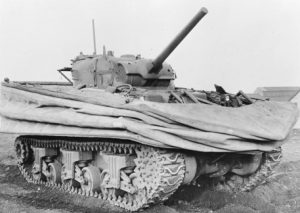 Nazi forces invaded France in 1940. In 1942, the Allied forces tried to break the strong Nazis' defenses in Dieppe, a coastal commune, by storming its beaches. Unfortunately, the Nazis foiled the attempted beach landings.
This gave Hobart the idea of converting a Sherman Duplex Drive tank into an amphibious military vehicle by installing propellers and floating canvasses on it. Since the modified armored vehicle could float on water, it was later called the "swimming tank." The swimming tanks provided additional artillery support to the Allied troops during D-Day.
Sherman Crab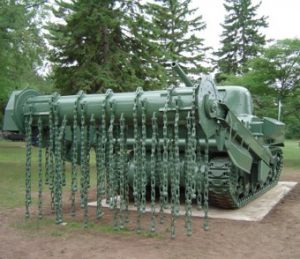 The Crab was a Sherman tank with a flail attached at the front. The flail was made of chains that spun as they hit the ground. The impact would detonate land mines and allow the tank to rip the barbed wires installed by the Nazis. Sherman Crabs cleared the way for the infantry and other tanks to safely break through Nazi defenses and attack enemy forces.
The Crab was not a new invention. Hobart adapted its design from Matilda Scorpion, which was used in earlier invasions such as the Battle of El Alamein. The tank was also equipped with a 75mm gun, which could fire shells at targets when the flails weren't in use.
Churchill AVRE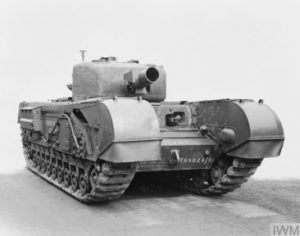 The Churchill Armored Vehicle Royal Engineer (AVRE) was a modified Churchill tank equipped with a spigot mortar that could launch bombs known as "flying dustbins" (because the bombs were shaped like dustbins). It was primarily used to destroy Nazi bunkers and other concrete and steel structures so that Allied troops could break through enemy lines.
Churchill Bobbin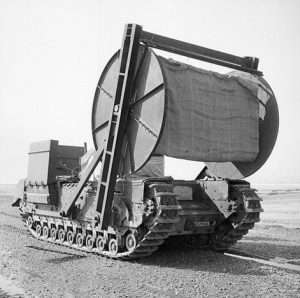 The Churchill Bobbin was a modified Churchill AVRE. It was used to lay down wide bobbin carpets on the soft surfaces of beaches. The carpets supported the weight of heavily armed tanks and other military equipment. The tank would lay the carpet down as it moved forward, allowing other vehicles to pass through the terrain.
Churchill Crocodiles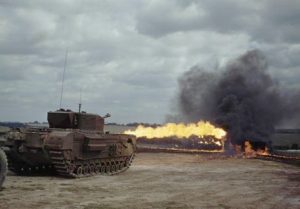 A Churchill AVRE tank armed with a flamethrower was called the Churchill Crocodile. Germans feared the Churchill Crocodiles because they didn't want to experience the excruciating pain of being burned alive. For this reason, the Allies were able to break enemy resistance, forcing the surrender of many Nazi troops, thus keeping Allied casualties to a minimum.
Give Hope to the Struggling Veterans in Your Community
The Allied forces needed Hobart's unique tanks to break through Nazi coastal defenses in France on D-Day. Likewise, you need your car to get you to places you need to go to.
However, when your trusty vehicle is giving you more trouble than convenience, perhaps it's time to retire it. And the most meaningful and rewarding way to do that is by donating that auto to us at Veteran Car Donations. We'll turn your old car into a powerful tool that can help transform the lives of the struggling veterans and their families in your area.
We'll put your vehicle up for auction, with the proceeds going to our veteran-focused nonprofit partners. Like us, these IRS-certified 501(c)(3) nonprofits are dedicated to helping veterans who are suffering from poverty, homelessness, unemployment, disabilities, and major illnesses, including mental disorders.
Our nonprofit partners use the funding we give them to provide deserving veterans with free quality health care, financial aid, housing assistance, employment opportunities, family support, educational scholarships, psychotherapy services, and many other benefits.
Expect to receive valuable rewards when you take part in our vehicle donation program. We'll send you by mail the 100% tax-deductible sales receipt of your vehicle soon after it gets sold. This receipt will entitle you to receive the maximum tax deduction in the next tax season.
We'll also haul off your car for free at a date and place of your choice. There's no place in the U.S. where we can't reach you since we operate throughout the country.
On top of the material rewards you'll get, your donation will give you that exquisite feeling of satisfaction, knowing that you'll help uplift the lives of our nation's suffering heroes.
We accept nearly all types of vehicles. We even take those that have dents, scratches, or defective parts.
Feel free to visit our FAQs page to learn about our quick and easy donation process and other important details. For your inquiries or concerns, call us anytime through our toll-free hotline at 877-594-5822 or write to us here.
Turn Your Car Into a Life-Changer Today!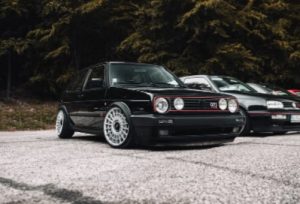 You can turn your car into a life-changing tool for the suffering veterans in your community today. It's about time to give back to these heroes who risked their lives to protect ours. Donate that vehicle to Veteran Car Donations by calling 877-594-5822 or filling out our secure online donation form now!