December 8, 2019
It's Time to Surrender Your Beat-Up Clunker! December is National Car Donation Month
Spreading joy, love, and positivity is what December is all about. Supporting a meaningful cause by doing a charitable deed is definitely a great way to touch the hearts of our countrymen and countrywomen who are confronted with gargantuan problems such as poverty, homelessness, serious illnesses, or unemployment.
If you've always wanted to play a significant role in improving the lives of these people, this December is the most opportune time to do so. It's National Car Donation Month! You can make a difference in the lives of the needy people around you by donating a vehicle you no longer need or use to a charity of your choice.
Charities use the vehicles donated to them to help fund critical programs for their beneficiaries.
Spread Joy with Your Generous Deed
National Car Donation Month underscores the point that an unneeded vehicle can make a huge difference in the lives of our less fortunate fellow Americans. That said, donating to a charity that advocates a cause that's close to your heart is something that will uplift your spirit even as it generates cascading benefits to others.
Don't have any vehicle to donate? It's okay! You can always spread the word and invite your friends and co-workers to participate in any charitable vehicle donation program.
You can also show your support by posting messages on social media about the observance of National Car Donation Month this December. Inspire others by tweeting about it or by sharing the event's mission on your Facebook page.
Donate Your Car for the Benefit of Our Vets and Their Families
What if we told you that we'd love nothing more than to have you as our charity partner? When you hand over your no-longer-used car to Veteran Car Donations, you'll be extending life-transforming assistance to the disadvantaged veterans in your local area.
For years now, we've been using vehicle donations to support our IRS-approved 501(c)(3) nonprofit partners, helping provide them the financial resources they need to pay for the cost of their services. With your donation, you'll help make it possible for our former service members to receive the following assistance:
Mentoring and job skills training for unemployed veterans;
Transitioning assistance programs;
Tutoring and educational scholarships for those who want to pursue a college degree;
Specially-adapted and mortgage-free homes for those with service-connected disabilities;
Mortgage-free homes for those without houses;
Medical assistance and access to mental health care resources;
Grief counseling sessions for families of those who perished in battle.
Indeed, you might find it surprising how a vehicle that you may already consider as useless can be used to generate such impactful benefits for our former troops. Thanks to you, our nation's struggling heroes will finally know what it's like to enjoy a good life.
These Rewards Await You
In return for your charitable contribution, you will get a set of rewards including a 100-percent tax-deductible receipt. This will enable you to claim the maximum tax deduction based either on the selling price of your donated vehicle at auction or its fair market value.
Moreover, you'll also get to enjoy our quick, convenient, and no-paperwork donation process and our free pickup and towing services. We'll gladly haul off your vehicle for free wherever your vehicle is located in the United States since we have vehicle donation programs in all 50 states.
We Accept All Sorts of Vehicles
One of the many reasons why we're considered as one of the best online vehicle donation platforms in the country is the fact that we're not picky when it comes to accepting vehicles being offered for donation. Aside from old cars, we also take motorcycles, RVs, boats, farm equipment, golf carts, campers, snowmobiles, Jet Skis, and just about any other vehicles you can think of. You can even turn over to us vehicles with damaged parts or those that barely run anymore!
The only donation offers that we cannot accept are abandoned and stolen vehicles. It's because those vehicles don't have titles or proof of ownership, which we need to be able to sell them.
Call us at 877-594-5822 or send us a message online if you have some concerns or questions regarding our vehicle donation program. You can also check out our FAQs page for more information.
Make a Difference with Us Now!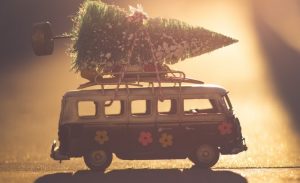 With December designated as National Car Donation Month, it makes perfect sense to donate your unwanted beater to us at this time of the year. Your gift will surely help in transforming the lives of our suffering veterans. Let this holiday season be the most memorable one for them yet. Call us at 877-594-5822 or fill out our online donation form to get started with your car donation now!