December 8, 2018
Types of Holiday Volunteer Opportunities: 6 Ways of Making a Difference in the Lives of Needy People
As we all know, the holiday season is a time of giving, a time for each and every one of us to pay it forward and extend our hands to those in need. Whether it's donating blood, feeding the homeless or giving your children's old clothes to an orphanage, what's important is that you're doing something to uplift the spirits of struggling individuals and families around you.
Volunteering during the holiday season is a great way to make a difference in the lives of needy people. You can choose from among the different types of holiday volunteer opportunities—from distributing toys to poor kids to preparing meals for the less fortunate folks in your community or to simply spending some time with the elderly.
If you don't know where to start, we're here to help you out! Here are six types of holiday volunteer opportunities that you can consider taking part in:
Food banks
With about 40 million Americans suffering from starvation, you can help reduce the number by volunteering at a local food bank. Expect a variety of simple tasks that may be assigned to you such as repacking, sorting, inspecting, and collecting leftover harvests. 
Toy drives
Wherever they may be, children love toys of all sorts. If you're somebody who has soft spots for kids, why not volunteer as one of Santa's elves and hand out dolls and action figures to underprivileged boys and girls in your area? You can also offer to wrap and tag presents for a local toy drive.
Winter warmth drive
Donate winter wear items, assist in the sorting or packing, and help in distributing them to destitute individuals in your area. To make it more fun, invite your friends and families to join you.
Elderly care
Did you know that there are nearly 11 million senior citizens living alone in the United States? Make them feel less isolated by spending some time with those in your area and helping them in whatever way you can. 
Adopt a family
If you're eager to give a disadvantaged family an opportunity to experience the real essence of Christmas, try adopting one! Cook hearty meals, surprise them with presents, and get to know them better!
You can find other holiday volunteer opportunities on these websites:
The United Way
Volunteers of America
Donate an Unneeded Vehicle to Our Vets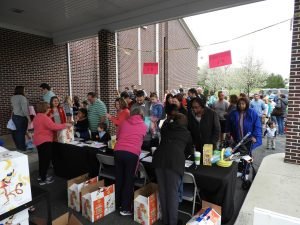 If you prefer another way to spread holiday cheer, we have just the perfect suggestion for you: Hand over your no-longer-used automobile to us at Veteran Car Donations! You have no idea how much that will mean to our former troops and their families! Many of them are suffering from service-connected disabilities, physical and mental health problems, unemployment, and homelessness as a result of extreme poverty.
Don't forget that they are our nation's heroes who fought for us, endured enormous sacrifices, and risked their lives to defend our freedoms and protect our security when they were still serving in our country's armed forces. As such, we owe them an immense debt of gratitude.
Your donation will enable these veterans to receive mortgage-free and specially adapted homes, free physical and mental health care services, job opportunities, education scholarships, and other benefits.
Our donation process is simple and straightforward, and you won't be paying for anything. We'll take care of all the required paperwork as well as the free towing of your vehicle.
Of course, we won't let you go without giving you something in return. In exchange for your charitable contribution, you'll get a set of rewards, including a 100% tax-deductible receipt that will enable you to significantly reduce your tax bill this coming tax-filing season.
For more information on our car donation program, check out our FAQs page. For inquiries, you can call our toll-free 24/7 hotline 877-594-5822 or send us a message online.
You can donate to Veteran Car Donations by either calling us or filling out our online donation form. We accept vehicle donations wherever you are in the United States since we have car donation programs in all 50 states.
Give Our Vets a Wondrous Holiday Cheer!
The holiday season is the best time to give back to people who have done so much for us. Our retired troops deserve our help after everything they've done for us. As you go over the different types of holiday volunteer opportunities, give some thought to an option that will benefit the veterans in your area. Call us at 877-594-5822 and extend them your wondrous holiday cheer with a car donation!