December 3, 2018
December 3—World Disability Day/International Day of Persons with Disabilities: Know the Frustrations They Face
On December 3—World Disability Day/International Day of Persons with Disabilities—everyone is encouraged to gain a deeper understanding of the various disability issues, focusing on the rights, dignity, and well-being of every individual who is living with a disability. Aside from this, the event provides an opportune time to educate ourselves on the benefits of integrating those with disabilities into our society's social, cultural, political, and economic structures.
Statistical Facts About Disability
Did you know that according to data released by the World Health Organization, approximately 10% of the world's total population is disabled? Not only that, 20% of the world's poor live with a disability. Sadly, in most low-income and middle-income countries, only 5–15% of those who have disabilities have access to assistive devices and technology.
The Struggles PWDs Face Every Day
Think twice before saying anything about what you think persons with disabilities (PWDs) feel on any given day. Perhaps you know a thing or two about their mobility issues or how they manage to handle the frustrations they're confronted with on a regular basis. The truth, however, is that there's so much more than what meets the eye.
Veteran Car Donations wants to focus on something more specific this year. This December 3—World Disability Day/International Day of Persons with Disabilities—let's put ourselves in the shoes of those who've been living with certain physical or mental limitations and get to know the frustrations they struggle with in their daily lives. Check this out:
Difficulty in finding a romantic love
Being in a loving relationship with a spouse or a lover is something that truly enriches our lives. However, for those who have physical or mental disabilities, getting into a romantic relationship is a huge challenge because more often than not, most people don't take them seriously.
Dealing with people who pretend to understand how they feel
You have no idea how incredibly annoying it is every time a mentally or physically handicapped person hears people say, "I know how you feel" or "It must be really difficult…" Dealing with people who pretend that they understand how it is to live with a mental or physical handicap can be quite frustrating because chances are, they actually don't understand. Let's avoid patronizing persons with disabilities.
Feeling like a sideshow attraction
Stop staring at a child with cerebral palsy, a teenager who has tics or an adult who has a limb amputation. Looking at them like they're strange creatures makes them feel uncomfortable.
Getting bullied
Did you know that according to a study, 60% of students with disabilities in the country are regularly being bullied compared to 25% of all students? This directly impacts the disabled students' performance in school. If you know someone who's living with a disability, treat them with as much kindness and respect as you would anybody else.
Hard to get a job
According to another study, the unemployment rate for PWDs as of 2013 was at 14.1% while the unemployment rate for those who aren't physically or mentally handicapped was at 7.1%. Most employers miss out on the capabilities and talents of PWDs simply because they're not willing to facilitate their entry into the workplace.
How to Treat a Person with a Disability
On December 3—World Disability Day/International Day of Persons with Disabilities—let's remember that every disabled person wants to be treated like a human being—nothing more, nothing less.
How to Help Disabled Veterans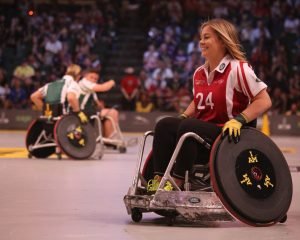 If you want to make a lasting impact on the lives of disabled U.S. military veterans in your area, we encourage you to donate your unwanted car or any other type of vehicle to us at Veteran Car Donations. We will sell your vehicle through auction and use the proceeds to help our nonprofit partners in providing our nation's heroes and their families with mortgage-free and specially adapted homes.
Homeless veterans and their families will also receive mortgage-free homes. Others suffering from physical and mental health issues will receive free healthcare services. Those who are jobless and those who want to graduate from college will be provided with employment opportunities and scholarships, respectively.
You will also benefit from your charitable contribution since you'll get to receive the maximum tax deduction based on your donated vehicle's selling price at auction.
For more details on our car donation program, check out our FAQs page. For inquiries, you can call our toll-free hotline 877-594-5822 or contact us online.
You can donate to Veteran Car Donations by either calling us or filling out our online donation form. We accept vehicle donations wherever you are in the United States since we have car donation programs in all 50 states.
Become a Hero to Our Nation's Heroes
On December 3—World Disability Day/International Day of Persons with Disabilities—do something that will make you a hero to the veteran community in your area. Call us at 877-594-5822 and get started with your car donation!