Do you have an old Class C motorhome that you haven't used for ages? If you have no more plans of using it and you're having difficulty finding a good buyer for such a recreational vehicle, your best option is to turn it over to us at Veteran Car Donations through our Class C motorhome donations program.
You'll be in for a big surprise when you find out how a vehicle you no longer consider as useful could turn into a powerful instrument that can transform the lives of the suffering underserved veterans in your local community.
How Your Donation Will Benefit Our Former Troops
Once you join our Class C motorhome donations program, we will auction off your vehicle and use the proceeds to support the programs and services of our charity partners that cater to our nation's heroes. These IRS-approved 501(c)(3) nonprofit organizations provide their beneficiaries with essential medical care, shelter, mental health services, employment opportunities, job training, education scholarships, and many other benefits.
Enjoy a Satisfying Donation Experience
We at Veteran Car Donations make sure that all our donors enjoy a most satisfying giving experience. With our free towing service and a team of donation specialists managing all your documents, you can fully count on us to get things done as efficiently as possible.
Contacting us is the only thing you need to do. Once you inform us of your decision to take part in our Class C motorhome donations program, we'll gladly complete the process for you.
Here is our quick three-step donation process:
Contact us.
You have two options to reach us: You may either fill out our donation form here on this website or give us a call at 877-594-5822. We'll then gather a few basic details about the vehicle you're donating.
We tow your motorhome.
After verifying the information you gave, we'll call you back to schedule your free vehicle pickup. You can tell us your preferred date and time for this as well as the location of your motorhome. Since we operate in all 50 states, we can pick up your vehicle wherever it is located in the country. In exchange for your donated vehicle, you'll receive a towing receipt from us before we take your donation. You'll need this receipt to cancel your motorhome's DMV registration and insurance coverage.
You receive your tax-deductible receipt.
We'll send your motorhome to one of the best auction houses in our network. A few days after your vehicle is sold, we'll mail to you your 100-percent tax-deductible sales receipt. You may use this receipt to claim your tax incentives in the next tax season.
Do you have questions about our donation process? Call us at 877-594-5822 or send us a message online. You may also want to check out our FAQs page.
Why Choose Veteran Car Donations
In case you're not aware yet, you'd do yourself a huge favor when you choose to team up with us. Not only will your donated motorhome transform the lives of our heroes, but it will also give you your share of rewards.
By participating in our Class C motorhome donations program, you'll get the following perks:
You'll get a top tax deduction.
You'll dispose of an unwanted vehicle at no cost to you.
You can schedule your vehicle's pickup at your convenience.
You don't have to go through the complicated process of selling an old motorhome yourself.
You'll save money since you'll no longer pay for your vehicle's repairs, maintenance, storage, registration, and insurance.
You'll feel good knowing that you'll be helping uplift the lives of the struggling veterans and their families in your community.
The Other Types of Vehicles You Can Donate
Aside from your unneeded Class C motorhome, you can donate to us other types of vehicles regardless of their age or condition.
Check out the types of vehicles we welcome at Veteran Car Donations:
Cars: sedans, compact cars, coupes, luxury cars, convertibles, hybrids, sports cars
SUVs: compact, mid-size, full-size, crossover versions
Vans: cargo vans, passenger vans, family vans, minivans
Trucks: mobile cranes, garbage trucks, refrigerator trucks, tank trucks, dump trucks, extended cabs, box trucks
RVs: toy haulers, folding and tent trailers, hybrid trailers, travel trailers, campers
Fleet vehicles: limousines, buses, minivans, vans, taxis, ambulances
ATVs: three-wheelers, four-wheelers
Motorcycles: scooters, mopeds, choppers, touring bikes, sports bikes, dirt bikes, off-road bikes, cruisers
Specialty vehicles: motorized wheelchairs, ATVs, golf carts, snowmobiles, riding lawnmowers
Work vehicles: landscaping vehicles, tractors, farm equipment, construction vehicles
Aircraft: gliders, non-commercial planes, helicopters
Water vessels: cruise ships, yachts, pontoon boats, catamarans, tugboats, sailboats, speedboats, fishing boats, motorboats
Thank Our Heroes with a Motorhome Donation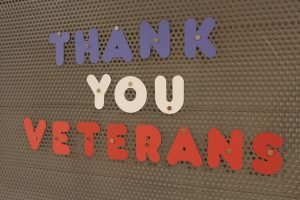 After all the pain and sacrifices our veterans had to endure for our sake, it makes perfect sense to thank them. You can do that by participating in our Class C motorhome donations program. Call us at 877-594-5822 or fill out our online donation form now!