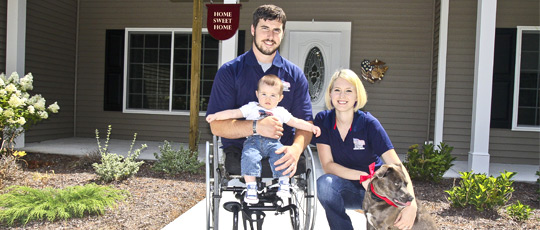 Homes For Our Troops Summary
---
MISSION:
To build and donate specially adapted custom homes nationwide for severely injured post-9/11 Veterans, to enable them to rebuild their lives.


Homes For Our Troops is a 501c3 nonprofit. The Homes For Our Troops Tax ID # is 54-2143612.
---
Our Forever Home!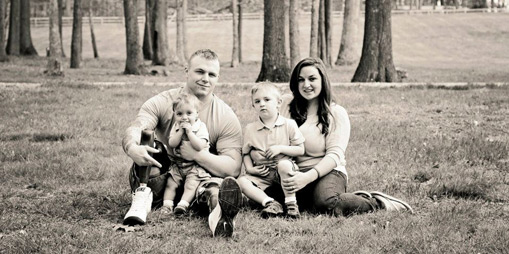 Dear HFOT,
We would love to start by saying we LOVE our HFOT home. It has changed our lives forever. From the doorways to the roll-under counters to the walkway outside, everything about our home is amazing. We cannot thank you enough for what you have done-for not only Jeff, but for our whole family. When you commit to building a home for a Veteran you not only help the Veteran you help the families also. I cannot express how thankful we are for our forever home.
Jeffrey is amazed how well he can get around the house in his wheelchair. He says it's such a smooth ride now on hardwood floors. He was falling a lot living with the carpet that we had in the old house and in our new home he hasn't fallen ONCE!
Jeffrey couldn't live without the wheel-in shower or widened doorways. The shower is so easy for him to get in and out of, and it's nice no longer having to worry about his wheelchair fitting throughout the hallways or Jeffrey hitting his hands on walls and doorways.
We are so happy he doesn't have to worry about his mobility anymore and can focus on family.
-Morgan Kessler, wife of Marine Cpl Jeffrey Kessler
---
It's All About the Simple Things!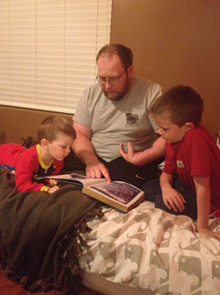 For many parents, reading their children a bedtime story is just part of the usual routine. But retired Marine Corporal Jon Schumacher and his two sons, Easton and Ethan, waited three years for that simple, but special moment.
Jon lost both legs in an improvised explosive device (IED) blast during his second deployment in Helmand Province, Afghanistan on Oct. 30, 2011. He and his wife Courtney received a new specially adapted home in Murrieta, Calif. in November 2014. The open floorplan now allows Jon to easily access his sons' rooms while in his wheelchair, and tuck them in at night and be there if they need him. He was not able to do so in their previous home because of the tight doorways.
Reading together was something Jon had enjoyed with his oldest son before his injury; now he can finally share the love of reading again with both sons. "With our new home this is something I can do every night with ease. No more stairs, no more skinny doorways that block my freedom of movement," he says.
Jon says he and Courtney could not be more thankful to everyone who supported HFOT to help their family. "This little moment I can now share with my family is a huge part of our healing," he says.