February 14, 2022
Make It a Genuine Celebration of Love on February 14th
Are you one of those folks who disagree that spending money is essential to expressing love, especially on Valentine's Day? Sadly, many believe that February 14th is the day for buying pricey gifts for their partners or going all-out on expensive dates with them.
Just like Christmas and other holidays, Valentine's Day has become widely commercialized. It is the fifth-largest consumer spending event in the United States after the winter holidays and Mother's Day. In this year's edition of Valentine's Day, Americans are expected to spend $23.9 billion — up from $21.8 billion in 2021, according to the National Retail Federation (NRF).
The steady rise in Valentine's Day spending over the years appears to reflect the belief of many consumers that the best way to please their loved ones on this special occasion is to shower them with expensive gifts. Although there's nothing wrong with that, it shouldn't be the main focus of the holiday.
Valentine's Day was originally meant to be a celebration of love. It's certainly not an occasion to indulge in reckless spending to please your loved ones.
In light of this, Veteran Car Donations shares five ways of how you can help restore the true meaning of Valentine's Day as you celebrate this special day with the person closest to your heart:
Make your own Valentine's Day card.
Don't just buy a pre-made card from the store. Make one from scratch. The effort you put into creating your own card will make the gift more special to the person you intend to send it to.
Plant something together.
Instead of giving your spouse or sweetheart a box of chocolates, why not a packet of seeds instead? You can plant it together and work with your significant other in helping it grow.  
Create a love photo album.
Print out your favorite pictures showing you and your love partner. Compile them in a photo album. You can write a short message on the back of each picture explaining why it's one of your favorites. On Valentine's Day, give the album to your special someone.
Volunteer at a soup kitchen.
Make Valentine's more meaningful by spreading love to those in need. Volunteer at your community's local soup kitchen to help out the less fortunate.
Write a handwritten love letter.
A handwritten love letter to your beloved has more impact than a letter sent by text or email. It also emphasizes the importance of the recipient of the letter since you made an effort to write it by hand.
Show Your Love to Our Nation's Heroes on Valentine's Day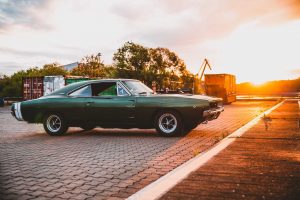 Valentine's Day is a great day to show our veterans that they haven't been forgotten. You can easily convey your gratitude and appreciation for their invaluable service to our nation by donating an unwanted vehicle to Veteran Car Donations. We'll give your old car a new and worthy purpose by using it to improve the lives of our country's many suffering veterans.
Our team will auction off your automobile, with the proceeds handed over to our veteran-focused charity partners. These IRS-certified 501(c)(3) nonprofit organizations cater to former members of our military who are homeless and impoverished as well as those who are suffering from disabilities, chronic unemployment, and illnesses, including mental health conditions.
These nonprofits use the funding we give them to provide deserving veterans and their families with employment opportunities, free financial, medical, and housing assistance, psychotherapy services, family support, scholarships, and many other benefits.
You will also benefit from your charitable contribution since we'll quickly haul your vehicle away at a date, time, and place of your preference at absolutely no cost to you!
You'll also get to enjoy our quick and convenient donation process where you don't have to do any paperwork.
On top of that, your charitable contribution will entitle you to receive the maximum tax deduction in the next tax season.
Aside from those material rewards, you'll find awesome satisfaction in knowing that your act of charity will be used to help uplift the lives of the disadvantaged and neglected veterans in your community.
We're also delighted to tell you that, unlike most car donation programs, we accept pretty much all types of vehicles. We're not even picky when it comes to their age or condition. Moreover, we can collect your vehicle anywhere in the United States since our vehicle donation program covers the entire country.
If you have any questions or concerns, feel free to call us through our 24/7 toll-free hotline at 877-594-5822 or you may send us a message here. Check out our FAQs page for more information on our donation program.
Touch the Hearts of Our Hurting Heroes Today!
This Valentine's Day, let's turn your unwanted car into a vehicle of hope for the struggling veterans in your community. We will use your vehicle donation to transform their lives. Call Veteran Car Donations at 877-594-5822 or fill out our secure online donation form now!