October 3, 2019
Enlisted vs. Officer: Which Path to Choose?
Are you thinking of joining our nation's military? You can enlist as a service member or get commissioned as an officer. Perhaps you're thinking, "Enlisted vs. Officer: which path to choose?"
Although both choices offer educational and training benefits, worthwhile experiences, and competitive compensation, there's a huge difference between the two in terms of commitments, responsibilities, and requirements. Your choice greatly depends upon your own personal, educational, and professional goals. That's why it's extremely important to familiarize yourself with the military's different service branches, examine yourself, and have a talk with your family before you make your decision.
The Difference Between an Enlisted Service Member and an Officer
When you understand the difference between the life of an officer and that of an enlisted service member, you can make one of the best informed decisions in your life. Veteran Car Donations sheds light on these differences that have everything to do with the level of commitment you're willing to make.
Enlisted Service Member
The least educational attainment needed for a person to be recruited as an enlisted service member is a high school diploma or a general education diploma (GED). It's also worth noting that when you enlist, you can immediately earn college credits while you receive the training integral to your branch. Should you wish to do so, you can pursue a college degree after your service and work towards becoming an officer.
Enlisted personnel of the military make up 83% of the Armed Forces and they are tasked to do the following duties:
Serve at the frontlines during armed combat;
Support and help with humanitarian and military disaster relief operations;
Take part in the operation, maintenance, and repair of military equipment; and
Supervise newly recruited enlisted service members.
Officers
Most officers in the United States Armed Forces are holders of a four-year college degree or its equivalent. Their main duty is to manage the enlisted personnel, participate in the planning, organizing and directing military activities for the troops, as well as operate and command military equipment, aircraft, and vehicles. Many of these officers commit to serving time in the military in exchange for an educational scholarship and a guaranteed career after their service.
Make a Veteran Smile Today!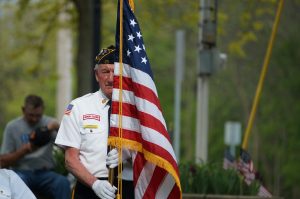 Our nation's heroes—those former military servicemen and servicewomen who volunteered and made plenty of sacrifices for the sake of our freedom and security—deserve to receive all the help that they could have. Many of them are grappling with serious mental health issues, joblessness, poverty, and homelessness.
Veteran Car Donations, along with our IRS-certified 501(c)3 nonprofit partners, seek to support them by providing them with critical services that include free mental healthcare, general transitioning assistance, educational scholarships, and various employment services.
You can help us provide them with such benefits by donating to us a vehicle you no longer use or need. We will auction off your donated vehicle and use the proceeds to support the programs of our charity partners that cater to our active-duty troops, veterans, and their families.
By teaming up with us, you can expect to experience a quick and hassle-free donation process, free pickup and towing services, and the necessary paperwork that will enable you to receive a top tax deduction in the next tax season.
If you need more information about how car donations can benefit you, check out our FAQs page. For inquiries, you can call us at 877-594-5822 or send us a message online.
If you've decided to dispose of your clunker, you can fill out our secure online donation form or call us now. We accept donations of nearly all types of vehicles regardless of age and condition, which means you can hand over even vehicles that are no longer in good running condition. You can also make your donation wherever you are in the United States since we have vehicle donation programs in all 50 states.
Help Build a Great Future for Our Vets and Their Families
With our combined efforts, we can build a great future for our veterans and their families. There's no time to waste! Call us at 877-594-5822 and make your car donation today!