March 20, 2021
On March 20th, Tell Yourself to 'Keep Calm, Stay Wise. and Be Kind'
Despite all the challenges that the world is facing, there is always a reason to be happy. That is why the United Nations came out with a resolution in 2012 declaring March 20th as the International Day of Happiness. The declaration recognizes the importance of happiness in the lives of people all around the world.
The theme for this year's celebration is "Keep calm. Stay wise. Be kind." It is aimed at helping people cope with the new global challenges while staying positive and helping out one another.
Why Is Happiness Important?
Being happy helps you make the most out of life. It helps you become more motivated in finding your life's purpose. It also encourages you to share your joy with others.
Here are some of the benefits you'll get for seeking and finding happiness in your life.
You become more productive.
Happiness drives you to do your best. When you are happy with what you are doing, working seems like a fun activity instead of a tedious task. When you add a dash of joy and positivity to your day-to-day life, you unleash your creativity. You accomplish a lot and do things more efficiently.
You become healthier.
With less stress in your life, your body boosts its immunity against diseases. You feel lighter when you don't dwell on negative feelings and emotions and look at the bright side.
Happiness gives you a positive outlook.
Being happy helps you balance your emotions. It's alright to feel sad at times, but choosing to stay happy means learning to cope with negative emotions so they don't rule your life. Happiness helps you embrace positive emotions that give you a brighter perspective on life.
How You Can Find Happiness and Spread It to Others
You can create happiness in your life and spread the same to others in many ways. Here are just 3 of them:
Calm down.
People face challenges in their personal lives, including work and relationship issues. Take a deep breath and try to understand that there are things that you cannot control. Focus on what matters and those that you can manage so you can respond constructively.
Do something nice.
Do a good deed to your family, friends, or even a total stranger. Give others a reason to be happy. Give compliments, share a meal, have a friendly chat, or volunteer for a local NGO.
Post happy stories on social media.
Share some good news that can make people happy on your social media pages. Post interesting, inspiring, or funny stories. Share the good vibes with people from all parts of the world and reach out.
Give Struggling Vets a Reason to be Happy
Life's challenges can take their toll even on strong people like our veterans. How can they find happiness when they're faced with seemingly insurmountable problems such as unemployment, homelessness, disabilities, and illnesses, including mental health disorders? It is a shame indeed that many of our veterans are living miserable lives despite all the sacrifices they made in serving our nation. 
You can reach out to them and help turn their lives around by simply turning over your old and unwanted vehicle to us at Veteran Car Donations.
We'll sell your donated vehicle through auction and use the proceeds to support the vital programs and services being provided by our veteran-focused charity partners to their beneficiaries. These IRS-approved 501(c)(3) nonprofit organizations provide deserving veterans and their families with quality health care, financial aid, housing assistance, employment opportunities, family support, educational scholarships, psychotherapy services, and many other benefits.
Your vehicle donation will also bring you some good news. It will entitle you to receive the maximum tax deduction in the next tax season. You'll also benefit from our free pickup and towing service, which is available to our donors in all 50 states. 
The best reward you'll get, however, is the experience of feeling the joy and satisfaction of contributing to the improvement of the living conditions of our nation's heroes.
For more details on our vehicle donation program, including tax deductions and our donation process, visit our FAQs page. If you're uncertain about your vehicle's eligibility for our program, check out this page to learn what we usually accept.
Call us at 877-594-5822 or send us a message here should you have any questions or concerns that you'd like us to address.
Create Happiness Today!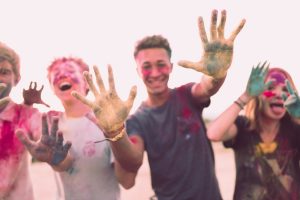 Celebrate the International Day of Happiness on March 20th by creating happiness for the struggling veterans in your community and yourself as well. Nothing compares to the wondrous feeling of having done something good for those who need help the most. All it takes is your car donation for this to happen. Call Veteran Car Donations at 877-594-5822 or fill out our online donation form now!