February 11, 2019
February 11—Make a Friend Day: 5 Must-Have Tips to Make New Friends
Just in time for February 11—Make a Friend Day, let's remind ourselves that when it comes to happiness, our friends are the key. In fact, science has proven that people who maintain great friendships have reduced stress levels, low blood pressure, are less likely to suffer depression and tend to live much longer lives. February 11—Make a Friend Day give us a chance to come out of our comfort zones and be open to new meaningful friendships.
How to Make a Friend
As what Ralph Waldo once said, "The only way to make a friend is to become one." Let's try to be one on February 11—Make a Friend Day. Here are some tips on how you can make friends:
1. Know that you're a great person.
Did you know that the reason behind people's shyness toward others is the fear of being judged? Oftentimes, we worry too much about making a good impression, whether the person we're trying to make friends with would like us or otherwise. The only way you can effectively reach out to others is to love and like yourself—regardless of the opinions that others may have about you.
2. Drop a friendly SMS to people!
Identify your "Hi-Bye" friends from earlier years and reconnect with them through your favorite social media platform. These could be people you've lost touch with over time. Ask to meet up with them if they're free.
3. Get yourself out there!
If you've already touched base with the people you know, you can extend your circle by meeting new ones out there. Go to places such as parties, bars, and clubs where the chances to see new faces and make new connections are high. You can also choose to participate in workshops or get involved in volunteer work to meet like-minded people.
4. Make the first move!
Don't wait for others to approach you first. Chances are, they might be waiting for you to do just that. Go up to someone and say "hi" or "hello." Try to break the ice by asking them how their day was.
5. Be genuine!
The worst thing that you can do is to pretend to be someone else just so you can gain new friends. Whatever happens, don't be a phony. Remember that the best friendships are always between people who accept each other for who they are.
Friendships are definitely one of the greatest assets a person can have. We can't be any luckier if we have true friends who are always there for us.
Make a Veteran Friend on February 11—Make a Friend Day!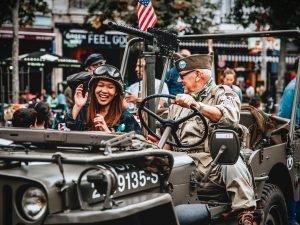 Did you know that countless veterans are struggling to ease back into the civilian sector after they returned home from their deployment and subsequently discharged or retired from the service? The good news is, you can do something to make their lives better!
If you donate any type of unwanted vehicle to Veteran Car Donations, you'll help provide funding for various programs that will directly benefit the veterans in your area. Your contribution will allow them to have free mental health care, general transitioning assistance, mortgage-free and specially adapted housing, educational scholarships, and employment opportunities.
Your vehicle donation will also personally benefit you since the 100% tax-deductible sales receipt you'll get from us after your vehicle gets sold at auction can significantly lower your tax bill. You can claim the indicated amount in the receipt as your tax deduction when you file your itemized federal income tax return. Moreover, you'll get free towing service from us.
For more information on our car donation program, check out our FAQs page. For inquiries, you can call our toll-free 24/7 hotline 877-594-5822 or send us a message online.
You can donate to Veteran Car Donations by either filling out our secure online donation form or calling us. We accept donations of nearly all types of vehicles wherever you are in the United States since we have car donation programs in all 50 states.
Make Friends with Our Nation's Heroes!
Turn February 11—Make a Friend Day into a meaningful occasion by lending a hand to our nation's heroes, those brave men and women who fought for us to keep us safe and sound at home. Call us at 877-594-5822 and make friends with them with your car donation!