January 25, 2019
Spike in Drunk Driving Among Veterans: How You Can Help in Stemming the Problem
Life after service is supposed to be much better for our brave military men and women now that they're home and away from the combat zones where they were once deployed. Unfortunately and quite ironically, however, life has only gotten worse for them.
One of the numerous problems they face after returning home is lack of support from the government. With insufficient resources to help them transition to civilian life, many of these newly discharged troops end up without anything to sustain their needs. To further aggravate their situation, they find themselves dealing with the aftereffects of combat such as post-traumatic stress disorder (PTSD), traumatic brain injury (TBI), sensory impairment, and physical disabilities or injuries.
As a result of the pain and distress they feel, many of our veterans turn to alcohol as a coping mechanism. They engage in binge drinking, which to some has become a daily routine.
Binge drinking—defined as "consuming more than 4 drinks within a 2-hour period for women and 5 for men"—is becoming more and more rampant among veterans. A recent study by the American Addiction Centers revealed that 14.3% of the country's veteran population engaged in binge drinking in 2013, rising to 15.9% in 2017.
Drunk Driving and Binge Drinking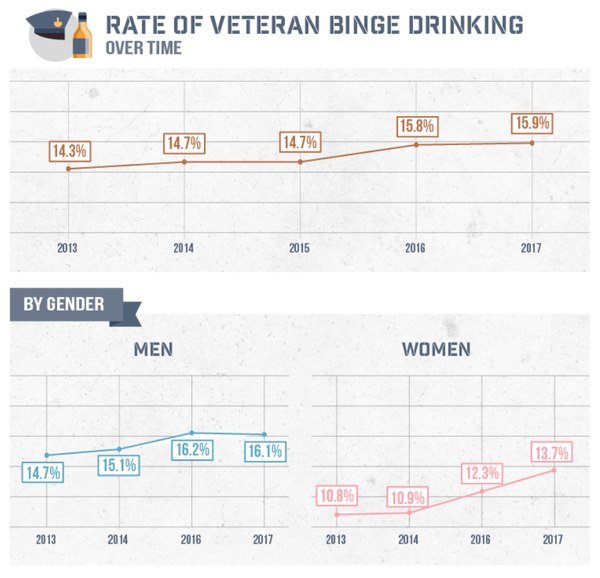 Apart from contributing to serious mental and physical conditions, binge drinking has been associated with drunk
driving. A pervasive issue that's been going on in our country for years, drunk driving accounted for about 30 deaths per day in 2016 alone.
What makes it worse is that our former service members are a huge part of this epidemic. The percentage of U.S.
veterans involved in DUI rose from 1.6% to 2.5% in just 2 years—from 2014 to 2016. Unlike in binge drinking, drunk driving is more common among male vets.
As for the areas where veteran drunk driving most often takes place,
Washington D.C., California, and Kentucky are among those on top. Meanwhile, Alaska, Utah, and Virginia have the least rates of veteran drunk driving.
With a significant population of our vets getting into DUI offenses, some advocates are trying to pass a bill in the legislature to allow veterans to escape conviction even if caught driving while intoxicated.
However, they want certain conditions for them to be eligible for such an exception. Only those diagnosed with traumatic brain injury, PTSD, military sexual trauma or other psychological conditions as a result of service can gain an exception from conviction.
Help Us Reduce the Number of Veteran Drunk-Driving Cases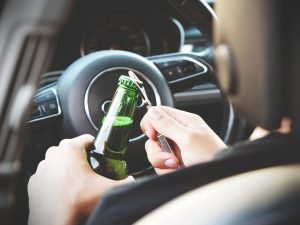 You can help stem the problem of drunk driving among veterans by contributing in the effort to address the problems of alcoholism, mental disorders, and other service-related issues among former members of our military. All it takes is a car donation. That old beater of yours can potentially turn their miserable lives around once you donate it to us at Veteran Car Donations.
We are fully committed to making life better for our veterans and their families. We use vehicle donations as a source of funding for our nonprofit partners, helping them sustain their programs and services for needy veterans and their families. The benefits they receive include mortgage-free and specially adapted homes, free mental health care, employment opportunities, job training, transitioning assistance, tutoring support and education scholarships, and financial assistance.
Whatever vehicle you can donate—a car, motorhome, scooter, jet ski, and more—we'd be more than willing to take it. Just contact us and let us know of your decision to donate, after which we make an arrangement for the free towing of the vehicle you're donating.
A few weeks following the sale of your donation, expect a tax receipt to arrive in your mailbox. This 100% tax-deductible receipt will serve as your ticket for claiming a hefty tax write-off when you file your itemized federal income tax return for the incoming tax season.
For more information on our car donation program, check out our FAQs page. For inquiries, you can call our toll-free 24/7 hotline 877-594-5822 or send us a message online.
You can donate to Veteran Car Donations by either calling us or filling out our secure online donation form. We accept donations wherever you are in the United States since we have car donation programs in all 50 states.
Transform Lives with Your Car Donation
If you're ready to help our alcohol-dependent vets get the support they deserve, donate to us at 877-594-5822 now. We look forward to transforming their lives with your assistance.