November 6, 2019
The Basics: The U.S. Coast Guard Reserve History and Background
If you're looking for essential information on the United States Coast Guard Reserve, you've come to the right place.
When you hear the word "military," the first thing that probably comes into your mind is our nation's active-duty soldiers and veterans. People rarely think about the U.S. Coast Guard Reserve.
As the U.S. Coast Guard Reserve's name suggests, this is the unit that provides an opportunity for civilians to serve in the military while working on their civilian jobs. The unit operates under the direction of the Commandant of the Coast Guard through the Director of Reserve and Military Personnel. Coast Guard Reserves are only called to missions when the U.S. Coast Guard needs additional support and manpower.
The Coast Guard Reserve's History
The Coast Guard Reserve came into existence on June 23, 1939. The passage of the Coast Guard Reserve and Auxiliary Act caused its name to be changed to the United States Guard Auxiliary in 1941. In the same year, the Coast Guard Auxiliary was authorized to commence operations.
During World War II, some of the U.S. military personnel who served were under the Coast Guard Reserve. Most of them were signed as regular reservists and were required to serve for at least six months. They also functioned as temporary reserves who served without getting paid and were only entitled to reimbursement for the fuel consumption of the privately owned boats that were used to patrol the U.S. coasts.
In 1942, the Women's Reserve was established. Its members were known as SPARs, a name derived from their motto, "semper paratus," or always prepared. Their task was to stand guard by the shore while the men were sent off to guard the seas. The Women's Reserve was terminated in 1947 following the end of World War II. However, it was re-established in 1949.
In the 1950s, 625 members of the U.S. Coast Guard Reserve joined other U.S. expeditionary forces during the Korean War. During the Vietnam War, 18,000 reserves were also deployed to Southeast Asia. By 1972, the reserves had a whole new set of tasks to carry out. This included humanitarian services, mitigating environmental disasters, and rescue of those who figured in shipping and aircraft accidents.
At present, Coast Guard Reserves are called to help in disasters and calamities. For instance, during the 2010 Haiti earthquake, the United States Coast Guard Reserve was one of the first units to fly to that Caribbean country to help with the rescue and relief operations. The Reserve's commitment to train and augment U.S. military personnel has been a great help to the U.S. Coast Guard, particularly in rescue operations and law enforcement.
How to Join the U.S. Coast Guard Reserve
If you're interested in becoming a part of the U.S. Coast Guard Reserve, Veteran Car Donations shares the following requirements that you have to meet:
Must be nationalized or a citizen of the United States
Must be over 17 years old but not over 37. Minors (17 years old) would need to get their parents' consent.
Must at least be a high school graduate or have a general education diploma
Should not have more than two dependents
Must take the Armed Services Vocational Aptitude (ASVAB) test and must obtain the passing score
Must undergo and pass a Military Entrance Processing Station medical exam
Must be comfortable to work on water
Do You Want to Make a Difference Today?
Veteran Car Donations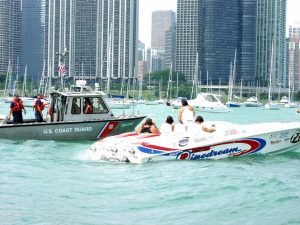 makes it easy for you to support our nation's heroes. If you've been planning to get rid of your old and unwanted vehicle, you can donate it to us. This way, you'll be helping provide funding for the critical services that our IRS-certified 501(c)3 nonprofit partners deliver to deserving veterans. These services include general transitioning assistance, mortgage-free and specially adapted housing, mental health care and psycho-social support, job training and placement, educational scholarships, and other benefits.
You will also benefit from your own charitable contribution since we'll be giving you a 100% tax-deductible sales receipt following the auction sale of your vehicle. You can use this receipt to significantly lower your tax bill in the next tax season. Moreover, you'll also get to enjoy our free pickup and towing services and our quick and convenient donation process.
We accept nearly all types of vehicles regardless of their age, mileage, or condition. You can also make your donation wherever you are in the United States since we have vehicle donation programs in all 50 states.
To get started, you only need to fill out our secure online donation form or call us at 877-594-5822. After that, we'll handle everything else for you.
If you want to learn more about our vehicle donation program, visit our FAQs page. If you have questions, feel free to send us a message online or call us at our toll-free 24/7 hotline.
Give Back to Our Nation's Heroes
For defending our freedoms and preserving our nation's security, our veterans deserve all the assistance they need. You can show them your gratitude by donating a vehicle for their benefit. Call us at 877-594-5822 and give back to our nation's heroes today!