August 1, 2019
Who Were the First Women to Join the U.S. Military?
Did you know that women make up an increasingly larger percentage of the American military? Not only do they now serve in combat roles, but they have also taken on higher positions of military leadership. Although the roles that women play in the military have expanded extensively over time, we can never overlook the fact that they had a rough start in the beginning.
The First Women Who Dared to Break Barriers in the U.S. Military Service
Who were the first women to join the U.S. military? Veteran Car Donations highlights the exploits of these remarkable American women who dared to break barriers and make a difference, paving the way for future generations of women to be recognized and acknowledged in a male-dominated arena.
Deborah Sampson (U.S. Army)
During the time when women were not yet allowed to serve in the U.S. military, Deborah Sampson, an indentured servant, decided to join the Continental Army in 1781, disguising herself as a man named Robert Shurtleff. In the heat of the battle, she suffered injuries to the head and thigh. While she allowed the physician to attend to her head wound, she refused to be treated for her other wound for fear that her secret would be exposed.
Eventually, her ruse was discovered when she wrote a revealing letter to a woman who developed romantic feelings for her. When the woman's uncle showed Sampson's letter to her unit's commanding officer, Sampson a.k.a. Shurtleff was honorably discharged from the Army by General George Washington.
Opha May Johnson (U.S. Marine Corps)
Johnson was a wife of an orchestra conductor and the very first female member of the Marine Corps. In 1918, Navy Secretary Josephus Daniels allowed women to take on clerical roles in the Marine Corps so that the men assigned for those roles could join those deployed overseas. Incidentally, Johnson served as a rapid-fire typist during World War I before any American woman was even allowed to vote.
Myrtle Hazard, Genevieve and Lucille Baker (U.S. Coast Guard)
Genevieve and Lucille Baker were the first women to serve in the U.S. Coast Guard after they were transferred from the Naval Coastal Defense Reserve during World War I. On the other hand, Myrtle Hazard was the very first woman to officially take an oath of enlistment for her service as an electrician in the U.S. Coast Guard on January 21, 1918.
Loretta Walsh (U.S. Navy)
When America was preparing for war in 1917, the number of men who enlisted in the military was not sufficient. This prompted Secretary of the Navy Josephus Daniels to issue an order authorizing women to enroll in the U.S. Naval Reserve Force. Walsh responded to the call and agreed to be enlisted as a chief yeoman.
On March 21, 1917, she became the first officially enlisted active-duty Navy woman and the first to render military service in the U.S. armed forces in a position other than a nurse.
Esther McGowin Blake (U.S. Air Force)
Blake, a widow, decided to quit her job as a civilian employee at Miami Air Depot when she found out that her oldest son had been shot down while he was flying a B-17 Flying Fortress over Belgium and was reported missing. She joined her sons in uniform and enlisted on July 8, 1948, making her the first woman to serve in the United States Air Force.
Before the war ended, Blake was reunited with both her sons when they returned home from combat. She was in active service until 1954 when she separated due to disability.
Donate a Vehicle to Support our Military Veterans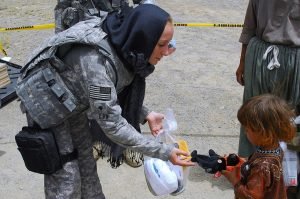 Knowing the women trailblazers in each of the U.S. military services makes us realize the pivotal roles that the first American servicewomen played to protect our country and everything that it stands for. The military veterans of today are no different from these extraordinary women. They likewise sacrificed a lot and risked their lives to preserve our freedom.
Don't you think that it's about time we demonstrate our deep appreciation for their service by helping those veterans who are suffering from service-connected disabilities, mental health issues, lack of jobs, and homelessness due to poverty? You can easily provide them much-needed assistance by donating your old and unwanted vehicles to us at Veteran Car Donations.
We sell donated vehicles via auction and use the proceeds to support the programs and services of our IRS-certified 501(c)(3) nonprofit partners. These nonprofits are dedicated to providing all sorts of benefits to the active-duty members of our armed forces, veterans, and their families. For instance, homeless veterans are given the chance to own mortgage-free homes while those who have service-connected disabilities are also entitled to own mortgage-free and specially adapted homes. Other needy veterans receive free mental health care, employment opportunities, job training, transitioning assistance, tutoring support and education scholarships, financial assistance, and many other benefits.
You will also benefit from your own charitable contribution since we'll be giving you the 100% tax-deductible sales receipt of your donated vehicle once it is sold. You can use this to reduce your tax bill. Moreover, you'll also get to enjoy free pickup and towing services from us.
For more information on our car donation program, check out our FAQs page. For inquiries, you can call us at 877-594-5822 or send us a message online.
You can donate to Veteran Car Donations by filling out our secure online donation form. We accept donations of nearly all types of vehicles wherever you are in the United States since we have car donation programs in all 50 states.
Transform Our Heroes' Lives with Your Car Donation!
Help transform the lives of our heroes now. Call us at 877-594-5822 and get started with your car donation!